Privacy Shrubs
You've heard of privacy trees, but have you heard of privacy shrubs? Fast-growing privacy shrubs are great for creating quick privacy screens, hedges, or buffers around both a patio and a fence line. Not to mention, creating a privacy screen with live plants is a more cost-effective option than traditional fencing. When creating a privacy hedge, be sure to plant them leaving enough room for growth. Privacy shrubs, like the ones listed below, can also be planted in pots and placed directly on a patio!
Here are a few of our favorite privacy shrubs: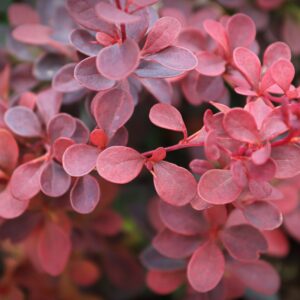 Barberry
While barberry makes for graceful hedges and barriers, its thorns are fantastic for maintaining privacy. They can be found in a variety of colors ranging from chartreuse + gold, or purple + burgundy. Growing up to 8 feet tall, this shrub has colorful fall foliage, spring blooms, and winter interest, making it a great choice for year-round beauty! Barberry attracts birds and is low maintenance.
Ligustrum
Fast-growing ligustrum is sought after for its durability and versatility. Not only does this shrub offer stunning green foliage, but it also produces flowers in the spring! Ligustrum can thrive in full sun to partial shade, and will need to be watered regularly until established.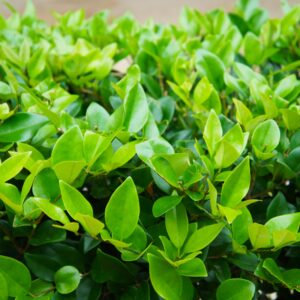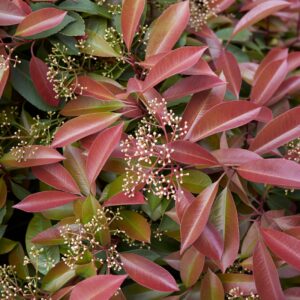 Red Tip Photinia
is a popular fast-growing evergreen shrub that is often used as a fence row or hedge. The oval leaves of red-Tipped photinia plants start out red but turn into dark evergreen after a couple of weeks. During the spring, photinia also has small white flowers that produce red fruits, which often last into the winter. To avoid photinia disease. Be sure to provide well-drained soil so that it isn't too wet. Photinia plants also prefer full sun, but they can tolerate partial shade.
Euonymus
Euonymus is an evergreen shrub with dense foliage that is excellent as a small hedge. It's low growing and spreading and will mound on itself or work its way up a foundation or tree base. Excellent near retaining walls to soften or drape over the side. It's deer resistant and great for those hard-to-fill spots!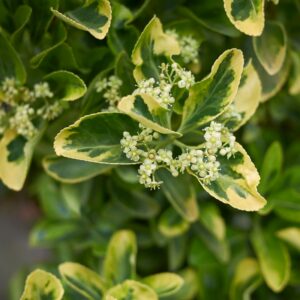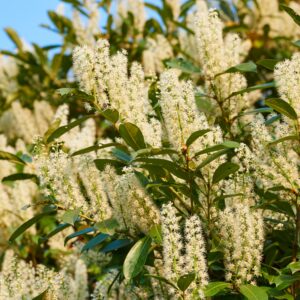 Cherry Laurel
Cherry Laurel is a tree that's also a shrub! It can be pruned into an ornamental hedge that is easy to care for and beautiful. The rich green leaves and fragrant white blooms in the spring make it attractive from all angles. This shrub is functional, reliable, and easy to care for. It can do well in sun or shade and prefers moist, well-drained soil. Cherry Laurel is also deer resistant and will tolerate salt spray for those who live near the wate
Contact Us
Have any questions? Contact our Sales & Customer Success Team!
**Please note: during our busy spring season, we cannot provide inventory or pricing information that is guaranteed to be accurate by the time you come and visit our nursery. Our inventory moves incredibly quickly – the best way to see what we have is to visit us and speak with our sales staff directly! Thank you for your patience and understanding.**
Explore Other Types of Shrubs We Sell: