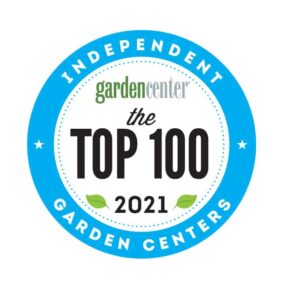 2021: Voted #21 of the 100 Top Independent Garden Centers by Garden Center Magazine
Our Story: The Premier Garden Center in Bowie, MD
In 1996 Patuxent Nursery, originally a one-stop shop for landscape professionals, soon expanded to serve the gardening needs of the public in Bowie, Maryland and beyond. This change started us off in the direction that would find Patuxent Nursery a spot in the Top 100 Garden Centers in the country – after just ten years in business. The owners are local residents, and have been living in and serving Prince George's and Anne Arundel Counties for quite some time. Once they found the old tobacco farm on scenic Route 301, they knew it would become the perfect location for their new business.
Today, as a result of extensive, continuous re-investment in the development of the facility, and a dedication to expanding product offerings, Patuxent provides homeowners a very special shopping experience. Patuxent features  outdoor living accessories, the largest selection of trees and shrubs in the metro area, the most amazing assortment of colorful flowers, perennials, tropicals and organically grown edibles. Patuxent Nursery is truly a unique destination.
Growing to Serve You!
Patuxent Nursery | Garden Center & Plant Nursery
2410 N Crain Highway
Bowie, MD 20716
(301) 218-4769
Hours:
Mon. – Sat.: 7 am – 5 pm
Sunday: 8 am – 4 pm
Our Core Values
We care about our customers and work hard to ensure they have everything they need.
We are passionate and knowledgeable about horticulture, gardening, landscaping, and plant life. 
We are constantly improving our product selection, our customer service, and our industry expertise. 
We invest in our team and are committed to each employee's personal growth and professional fulfillment. 
We strive to connect with our community and provide a memorable garden center experience.