Evergreen Shrubs
Evergreen shrubs keep their color all year long and will help your yard stay in tip-top shape for any season! From Boxwood to Yucca, these low-maintenance shrubs provide year-round beauty, even during the cold winter months. Other popular evergreen shrubs include Holly, Red Tip Photinia, and Nandina. Needle leaf evergreen shrubs, such as Juniper and Yew, are coniferous and can be used to fill in low, empty spaces in your landscape.
Here are a few of our favorite evergreen shrubs: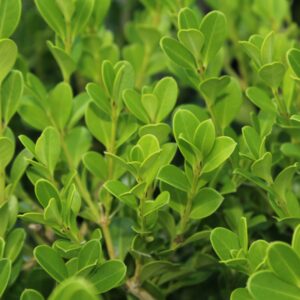 Boxwood
Boxwood is a slow-growing evergreen with small leaves and dense foliage. It can grow in sun or part shade and is adaptable to most garden conditions. It prefers moist, well-draining soil and can be sheared into a formal hedge or left untrimmed for a more informal look. Boxwood is also a great foundation plant.
Nandina
Nandina can be used anywhere in your landscape, from small groupings for color or in mass plantings with other evergreens. This shrub prefers full or part sun and has beautiful foliage and brilliant color ranging from rich greens and reds. Nandina is a compact shrub but can be pruned if needed.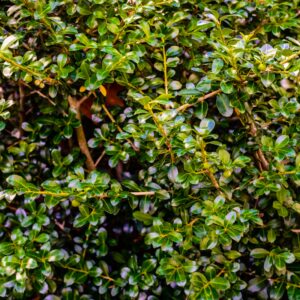 Japanese Holly
Japanese Holly is easy to grow and resembles the equally lovely Boxwood. This shrub is also used to make hedges or serve as a foundation plant. The Japanese Holly likes well-drained soil and tolerates full sun or partial shade. Keep the soil moist and be sure to add a layer of mulch around it. You can prune this shrub into any desired shape!
Juniper
Juniper shrubs are excellent, easy-to-grow, low maintenance shrubs! While it prefers full sun and well-drained soil, this shrub will do well in many different soil conditions. You can enjoy your juniper shrub as a ground cover or even as a container plant!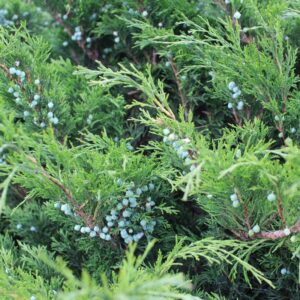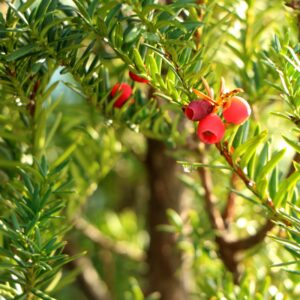 Yew
Yews are another durable shrub that can withstand various environments, but to avoid rot, be sure to give this shrub plenty of sunlight. Some species produce small red berries, which are toxic to humans and animals. A yew is the perfect evergreen shrub to bring some life and pops of color into your garden!
Stop by Patuxent Nursery today and check out our current selection of evergreen shrubs!

Contact Us
Have any questions? Contact our Sales & Customer Success Team!
**Please note: during our busy spring season, we cannot provide inventory or pricing information that is guaranteed to be accurate by the time you come and visit our nursery. Our inventory moves incredibly quickly – the best way to see what we have is to visit us and speak with our sales staff directly! Thank you for your patience and understanding.**
Explore Other Types of Shrubs We Sell: