5 Ways To Incorporate Topiary & Specimen Trees Into Your Landscape
Set your landscape apart from neighbors by enhancing curb appeal with eye-catching topiaries and specimen trees! There are so many unique tree options and so many fun ways to incorporate them into your landscape. We have your guide for deciding which trees are best for your landscape and how you can incorporate them!

Topiaries vs. Specimens
It is important to note that all topiaries can be considered specimens, but not all specimens are topiaries. Both will enhance curb appeal to your landscape and give it a unique touch, but there are some differences between the two.
Topiaries
Topiary trees are evergreens with dense foliage that are trimmed into irregular shapes to create year-round interest in a landscape. Topiary plants can be made into animals, spirals, geometric shapes, and more.
These trees can be used as a statement piece to anchor a garden, as well as to create privacy around your home! Use topiaries in your landscape to break up a space, make a statement, or elevate the elegance of your garden. Topiaries are so versatile and work in a variety of different yard designs.
Growing a topiary and shaping it yourself can take months. It is much easier to incorporate one into your home's garden that is already established. Once settled, topiaries will require some light pruning to maintain their shape. We currently carry already established topiaries in sphere and spiral shapes, which are the easiest to maintain and are great for beginners!
Specimens
Specimens can be shaped into irregular silhouettes or can grow naturally to produce a unique form. Some specimens, like the Golden Hinoki Cypress, can have both an irregular shape and impressive coloration. They are a focal point for any landscape and are typically planted by themselves, but can be planted in a group for added interest.

5 Ways To Incorporate Topiaries Into Your Landscape
1. Line Your Entryways
Choose multiple of the same topiaries, or alternate between shapes to keep things interesting. Alternating between Emerald Green Arborvitae spirals and 3-ball topiaries creates an uncommon pattern for an entryway to a garden or home.
2. Use As A Privacy Screen
Although you will not get full privacy from a topiary, they do make a unique screen that will block out a good amount of wind, sound, and sun. These living privacy fences will require some light trimming to maintain their shape but will last much longer and provide more charm than traditional fencing.
3. Define Your Garden
Adding topiaries to a garden clearly defines the space and creates lines for flow. They separate your space from your neighbors and mark off your garden with a distinct barrier. Your garden will have better definition and be easier to navigate when you line it with topiaries.
4. Create A Forest
Another way to mix and match topiaries is by creating an entire garden with them! Use the multi-sphere Hertz Blue Juniper Pom Pom topiary as a centerpiece and surround it with Juniper Spartan spirals to create a whimsical garden full of shapes.
5. Put It In A Pot
Some of the most beautiful containers and porch pots are anchored with a single topiary in the center. Alberta Spruce spirals add great height and shape to a container. The bright green color will stand out amongst other smaller "filler" plants that you choose to surround your porch pot with.
Side note: if you do choose to keep your topiaries in a pot, make sure to water them regularly so that they do not dry out.
5 Of Our Favorite Topiaries: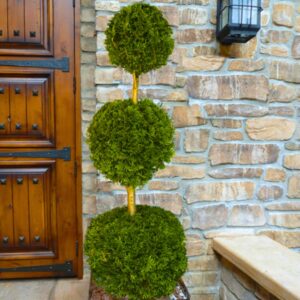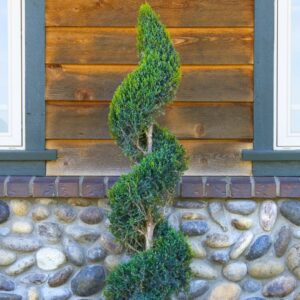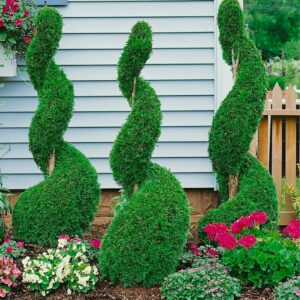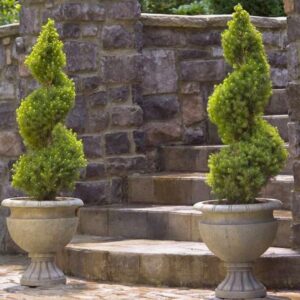 5 Ways To Incorporate Specimens Into Your Landscape
1. Anchor A Garden
Plan your garden around a specimen tree. Make a Serpentine Blue Atlas Cedar the focal point of your garden with smaller plants underneath to accent it. This small garden design will work virtually anywhere in your landscape!
2. Draw Attention To Small Spaces
Since specimens tend to fall on the smaller side of trees, they typically do not require much room to grow. This makes them the ideal plant to make a big impact on a small space.
3. Create A Memorial Garden
Some of the best memorial gardens are often the simplest. Having a single specimen tree surrounded by a bench and a statue can be the most beautiful way to memorialize a loved one. Plant a tree to sit next to and reflect on all of your memories with your lost loved one.
4. Use In A Rock Garden
Some specimen trees, like a weeping Japanese Maple, are an excellent choice for brightening up a rock garden. Its vibrant red foliage makes a striking statement in any landscape, especially in a rock garden.
5. Create A Quad
Although specimen trees are typically planted to stand alone, planting them equidistant apart in a group can be just as aesthetically pleasing. Creating a quad with 4 specimens can make for an alluring landscape to walk through and admire.
The trick for this type of landscape is to make sure that you plant them far enough apart so that they still stand out individually. This option is great for using minimal plants to cover a large area.
5 Of Our Favorite Specimens: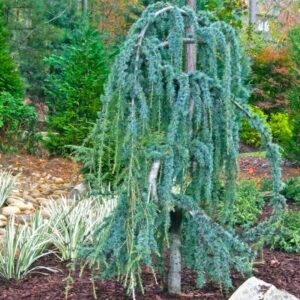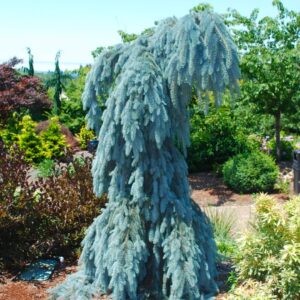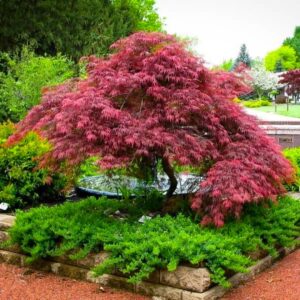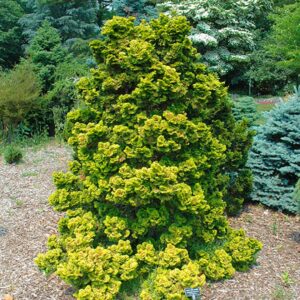 Topiaries & Specimen Trees At Patuxent Nursery
Topiaries and specimen trees are the first things that people will notice about your landscape. Enhance your curb appeal today by speaking with our plant experts on which ones will work best for your landscape!