Flowering Shrubs
Flowering shrubs are the perfect way to add texture and color to your gardens. Many flowering shrubs, like the ones listed below, can be used as bordering shrubs, container plants, or even as cuttings for in the home. Plant your flowering shrubs on their own or as part of a mass planting to make a statement!
Here are a few of our favorite flowering shrubs: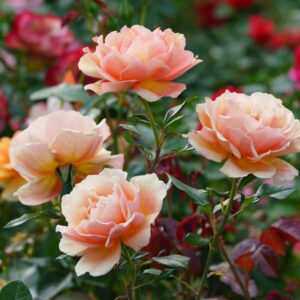 Roses
For a classic and elegant look, consider adding roses to your garden! Roses are one of the most recognizable and beloved flowers around. Patuxent Nursery provides a variety of roses from Drift Roses to Knockouts, to Oso Easy. While they all have unique and complex shapes, they are considered low maintenance. Just be sure to plant in full sun and water regularly.
Hydrangeas
Hydrangeas are easy to cultivate and long-blooming. As a more versatile shrub, they can be used for group plantings, as shrub borders, in containers, and as cut flowers! The acidity in the soil will affect the color of the blooms – the more acidic the bluer the bloom and the less acidic the pinker the bloom. They prefer moist, well-drained soil rich in organic matter.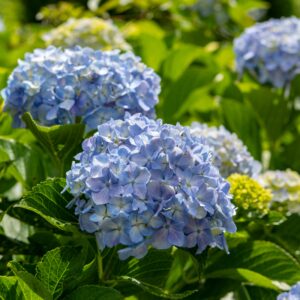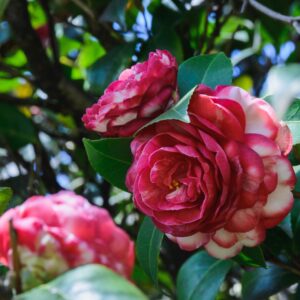 Camellias
Camellias are known to thrive in most garden environments, and are therefore a low maintenance flowering shrub. With their large, bright blooms, this plant is sure to make a statement in your garden. Camellias prefer partial sun or shade, and moist, well-drained soil.
Butterfly Bush
The Butterfly bush is so named because it does a fantastic job of attracting pollinators, like the butterfly, to its vibrant blooms! This flowering shrub offers unique shapes and bright purple colors to any garden or landscape. When caring for your butterfly bush, be sure to plant in full sun and water regularly.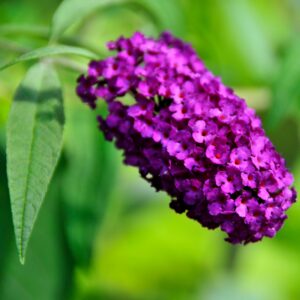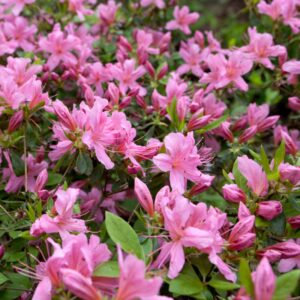 Azaleas
Azaleas are known for bringing extraordinary color to your garden. Flowers of pink, red, white, and purple hues cover the shrub from spring to summer (some even lasting through the fall). Most azaleas are hardy to our zone 7, so all you need to pick is your favorite color and bloom size! This flowering shrub prefers partially shaded areas.
Rose of Sharon
Rose of Sharon actually isn't a rose at all, but a hibiscus! With large blooms that open in late summer to fall, it's often the only bloomer in the garden at that time. It prefers full sun to part shade and moist, well-drained soil but can handle less than ideal conditions.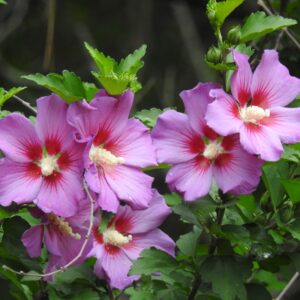 Visit Patuxent Nursery today to see our current selection of flowering shrubs!

Contact Us
Have any questions? Contact our Sales & Customer Success Team!
**Please note: during our busy spring season, we cannot provide inventory or pricing information that is guaranteed to be accurate by the time you come and visit our nursery. Our inventory moves incredibly quickly – the best way to see what we have is to visit us and speak with our sales staff directly! Thank you for your patience and understanding.**
Explore Other Types of Shrubs We Sell: