Flowering Trees
Flowering trees offer delightful blooms of bright colors and rich foliage. While they are of course loved for their ornamental qualities, they are also often practical in that they can be used as shade trees. Many flowering trees, like the ones listed below, have unique histories and can be found in famous places throughout the world!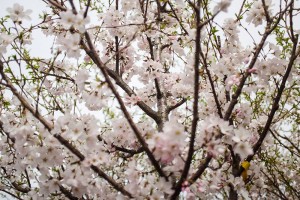 We're lucky enough to have an array of gorgeous species, grown & delivered seasonally to meet our customers' highest standards. If names like Yoshino Cherry, Crape Myrtle and Southern Magnolia ring any bells, you've found the right place. We host a large variety of species and sizes, suitable for jobs big and small. Talk to anyone on our staff and we'll be sure to lend a hand or two in fitting your property with the perfect trees.
Flowering trees transform your garden with mature trees providing beauty and grandeur, while small flowering trees sparkle with life and promise. They lure us outdoors to walk a bit and enjoy the beauty of the season. The best flowering trees attract pollinators such as bees, and fruits feed birds and small creatures. At every season, they frame and shape the garden. Ornamental trees brighten up any landscape with vivid colors in the spring and fall and sweeten the air with fragrant flowers. An ornamental tree can offer a focal point for your garden and add year-round beauty to a garden. When choosing flowering and ornamental trees, think beyond spring to those that blossom in summer or early fall, so there is always something in bloom to enjoy. Consider also interesting leaf shapes, handsome woody structure, showy fall color, and bright berries.
Here are a few of our favorite flowering trees:
Magnolia Trees
Magnolia's large, glossy-green foliage and showy flowers make them an especially attractive option for any landscape or garden area. Known as one of the oldest flowering trees, and said to have existed even before bees, ancient Magnolias are more often pollinated by beetles, the primary pollinators of the time. These trees, like Sweetbay Magnolia and Magnolia Jane, produce flowers during the spring season, which come in a variety of colors ranging from white, pink, purple, yellow, and even red.
Cherry Trees
The Cherry tree, a symbol of renewal and growth, marks the end of a cold winter and the beginning of a fresh spring. With its pink and white frothy blooms, which only last about two weeks, this tree offers a superb spectacle that is totally worth the wait. As the star of the show at the Cherry Blossom Festival in Washington, D.C., it's clear to see why this tree draws large crowds of people who are all there to view its brief but inspiring bloom. Growing to be about 30-50 feet tall, the cheerful cherry tree, like the popular Okame, serves more as an ornamental addition than a shade tree.
Dogwood Trees
The Flowering Dogwood, the state tree of Virginia, is of course known for its beauty, but also known to be a bit pickier than other flowering trees. Dogwoods thrive on a well-balanced watering schedule—not enough and they dry up, too much and they appear droopy. Similarly, they also prefer to be planted in a somewhat shady area where they can get some sunlight, but not too much. What you put into this tree, you will get out of this tree. While the Flowering Dogwood might seem a little demanding, with proper attention and care, a Dogwood will repay your efforts with beautiful white, yellow, or pink flowers come spring, making your efforts worthwhile.
Redbud Trees
A Redbud's heart-shaped leaves are certainly one of the many lovable qualities of this flowering tree. Similar to the Cherry Blossom, Redbud's blooming window lasts about two to three weeks. When the tree first begins to blossom, it attracts butterflies who feed on its nectar. While most flowering trees grow their flowers at the tips of their branches, Some Redbuds also produce pink flower clusters along their trunk, showing off even more of its vibrant coloration. Close to the tree's base, its trunk divides, creating a silhouette unique to the species. This tree's foliage transitions from green in the summer to yellow in the fall.
Crape Myrtle
As a relatively small tree, Crape Myrtle's iconic crinkled petals are one of the many charming details of this deciduous tree. Compared to Dogwood trees, the Crape Myrtle requires little water, loves the sun, and is generally an easy-going tree. In fact, when over-pruned (appropriately coined "crape murder"), this tree becomes weak, so be sparing with those shears! As the tree grows, its branches will begin to take on a desirable drooping appearance. Because of Crape Myrtle's high mildew resistance and dense, divided trunk, this tree makes for a great screening option. Beyond its practical use, the bright pink flowers that  the Crape Myrtle produces are a real focal point, adding aesthetic value to your garden area!
Visit Patuxent Nursery today to see our current selection of flowering trees!
Have any questions? Contact our Sales & Customer Success Team!
**Please note: during our busy spring season, we cannot provide inventory or pricing information that is guaranteed to be accurate by the time you come and visit our nursery. Our inventory moves incredibly quickly – the best way to see what we have is to visit us and speak with our sales staff directly! Thank you for your patience and understanding.**