Native Trees
Native trees are essential to restoring and preserving habitats for surrounding wildlife like bats, birds, bees, and other pollinators. Invasive plants are named because they take over the environment and do not leave space for the native plants that animals rely on for food and shelter. When we are considerate of what we plant, we are doing our part to protect our natural landscapes. There are many tree species native to Maryland, each with their own unique look and coloring!
Here are a few trees that are native to Maryland: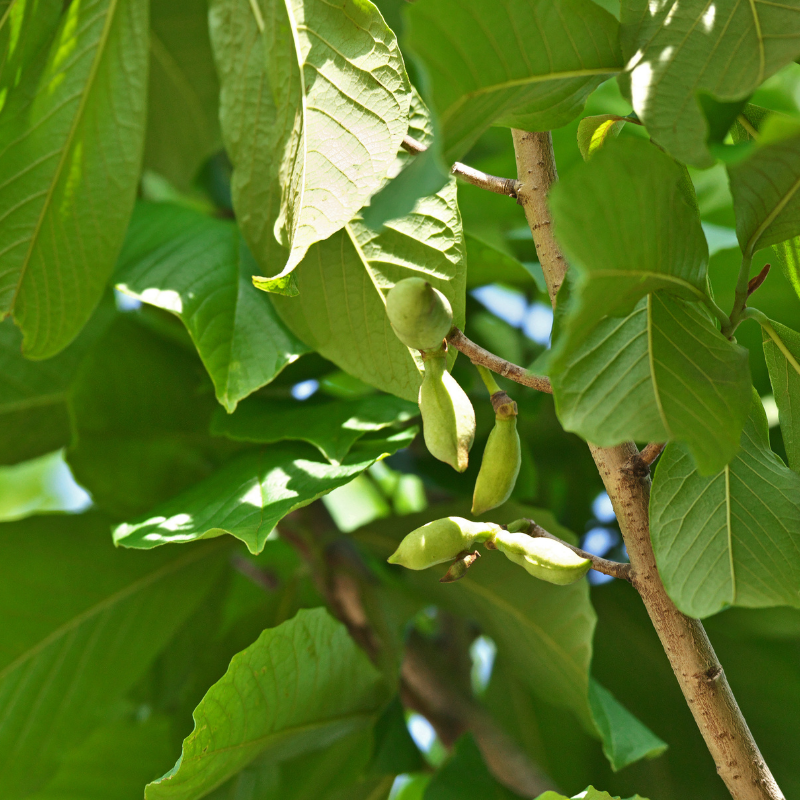 Pawpaw Tree
We love the pawpaw tree not only for its large, edible fruit, but also because it alone feeds the zebra swallowtail butterfly. Pawpaw trees can grow to be 20 feet tall, and in the springtime, its leaves shift to a nice purple color. The fruit, which emerges in the summer, has a delicious tropical flavor.
Grow zone 6-11
White Oak
White Oak's distinct peeling bark and changing leaf color—blue-green in the summer and red-orange in the fall—earned this tree the title of Maryland's official state tree. Its vast amount of round acorns, which emerge later in its life, act as a food source for surrounding wildlife. White Oak is wind-pollinated, which means it receives its pollen as it's carried through the air and not with the help of insects or other flying pollinators. Because of White Oak's super sealing properties, it is often used to make wine barrels.
Grow Zone: 3-9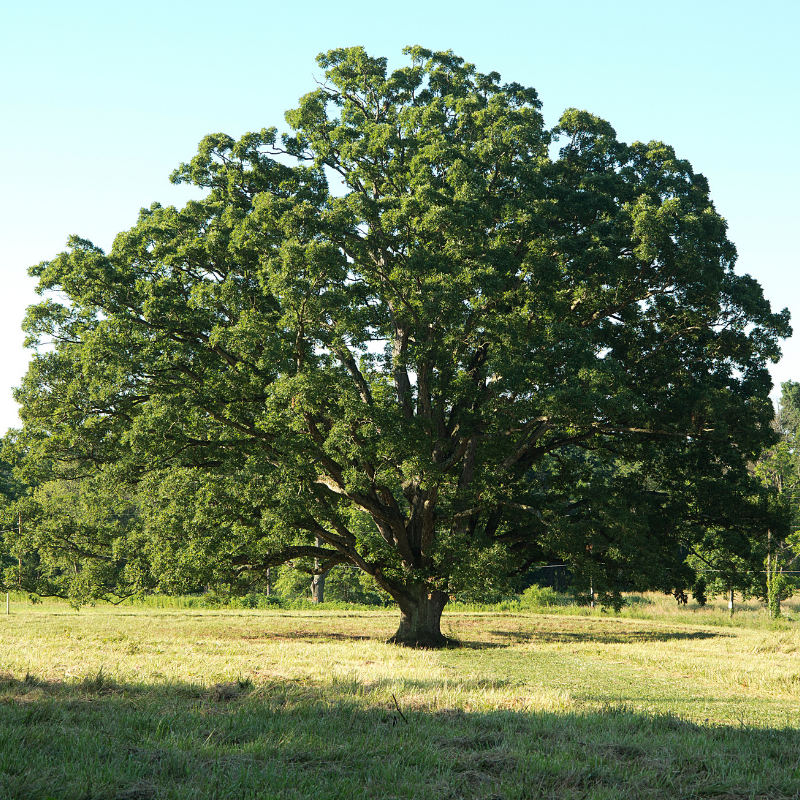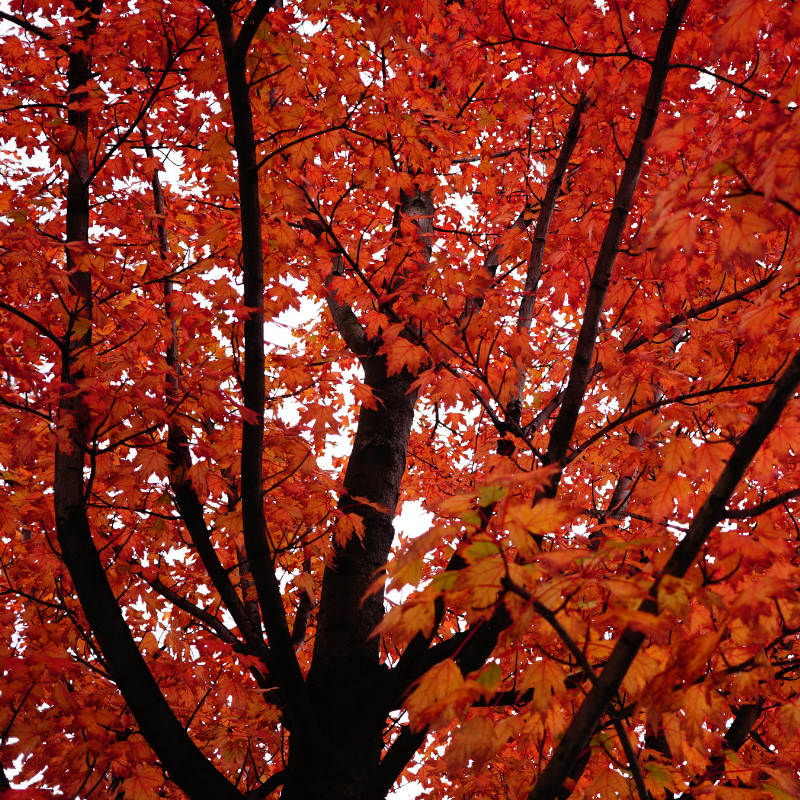 Red Maple
Did you know that the tallest Red Maple stands at a whopping 141' feet tall and lives in the Great Smoky Mountains National Park? This tree's vivid colors—deep red in the winter and red-yellow in the fall—make it a popular choice to accentuate yards and garden areas. Red Maple's seeds, known as samaras or "maple keys," can be found fluttering, helicopter style, towards the ground in late spring.
Grow Zone: 3-9
Eastern White Pine
Often used as a Christmas tree, Eastern White Pine's soft needles and height (up to 80 feet tall) also make this tree a great privacy screen option, especially if you're hoping to create a wind barrier surrounding an outdoor area. This evergreen's dense foliage and seeds from long brown cones serve as both a nesting area and a food source for birds.
Grow Zone: 3-8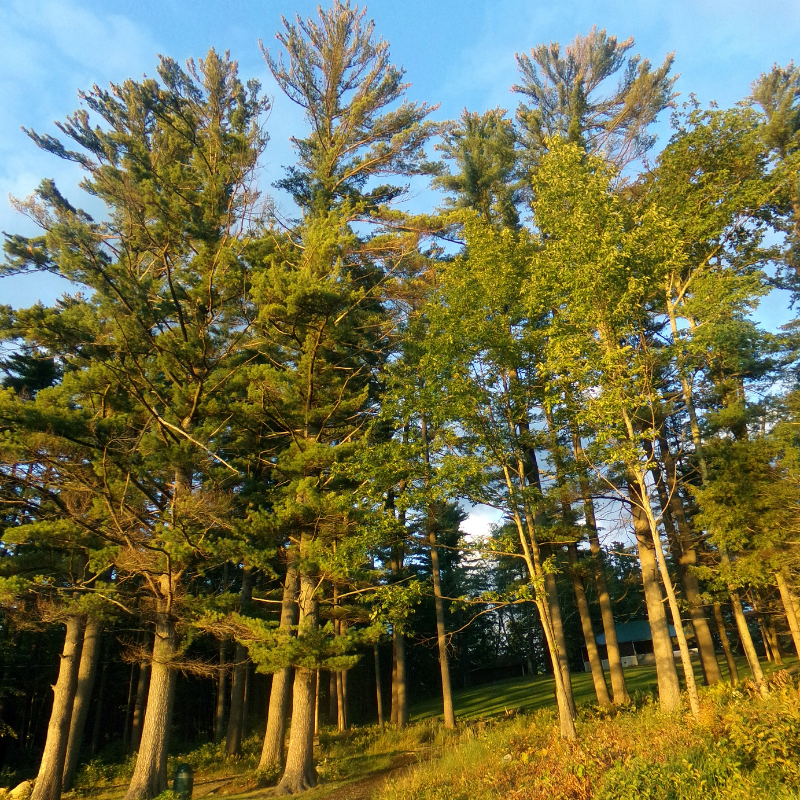 Tulip Poplar
The tulip poplar offers splendid blooms that resemble another popular flower, the tulip! This tree attracts all sorts of pollinators, which are drawn in by the flowers that adorn its branches. In autumn, the tulip poplar transforms into a golden color, making this the perfect tree for year-round color.
Grow Zone 4-9
Here at Patuxent Nursery, all native trees are clearly marked with the Maryland state flag for your convenience. Come see our current selection!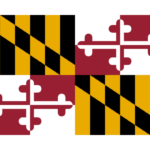 Come find the perfect Native Trees for your home landscaping at Patuxent Nursery!
Have any questions? Contact our Sales & Customer Success Team!
**Please note: during our busy spring season, we cannot provide inventory or pricing information that is guaranteed to be accurate by the time you come and visit our nursery. Our inventory moves incredibly quickly – the best way to see what we have is to visit us and speak with our sales staff directly! Thank you for your patience and understanding.**
For more information on planting native, check out our blog: