Berry Bushes
Berry bushes are the easy-to-care-for (and delicious) addition to any home garden! While we love fruit trees for the apples, peaches, and pears they produce, fruit shrubs give us bright berries and require minimal maintenance. One of the most important things to consider when caring for fruiting plants is protection from pests and diseases. With the right care and organic pest control/fungicide, you'll be picking berries from your very own garden in no time!
Here are a few of our favorite berry bushes: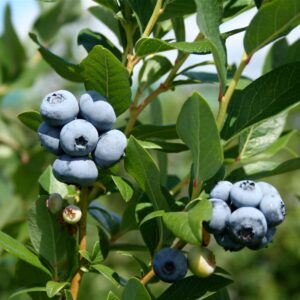 Blueberry Bush
Blueberry bushes can be factored into any landscape design as a focal point in the garden or even as a hedge! While this shrub produces fruit in the summer, by early fall it offers rich foliage for year-round interest. When selecting a blueberry bush, keep in mind that they do best when planted in groups, so be sure to buy more than one! Blueberry shrubs prefer full sun and moist soil.
Blackberry Bush
As far as care goes, blackberry bushes are the easiest of all! With its shiny, rounded berries along with its green foliage, it's no wonder this fruit shrub has become a popular choice for many gardeners. As another summer fruit, the blackberry bush prefers full sun and well-drained soil.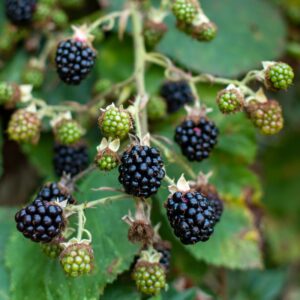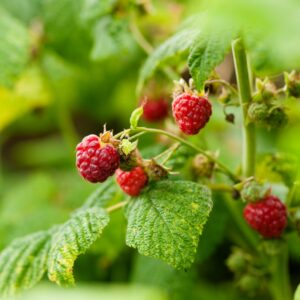 Raspberry Bush
A raspberry bush will begin to bear fruit a year after planting. From then on, this self-fertilizing shrub continues to produce berries! We love raspberry bushes for their bright red coloring and sweet taste. When caring for this shrub, know that raspberries can thrive in full sun or partial shade, always with well-drained soil.
Chokeberry Bush
Along with its fall fruit, the chokeberry bush produces stunning white flowers in the springtime. If you're looking to attract more birds to your garden, you might consider a chokeberry bush! Because this fruiting shrub is known to thrive in wet conditions, it would make a great addition to a rain garden. While chokeberries produce delicious fruit, the bush is also often used to create ground covers.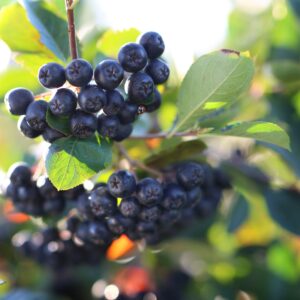 Stop by Patuxent Nursery today and check out our current selection of berry bushes!

For related content, check out our Garden Blog:
Contact Us
Have any questions? Contact our Sales & Customer Success Team!
**Please note: during our busy spring season, we cannot provide inventory or pricing information that is guaranteed to be accurate by the time you come and visit our nursery. Our inventory moves incredibly quickly – the best way to see what we have is to visit us and speak with our sales staff directly! Thank you for your patience and understanding.**
Explore Other Types of Shrubs We Sell: