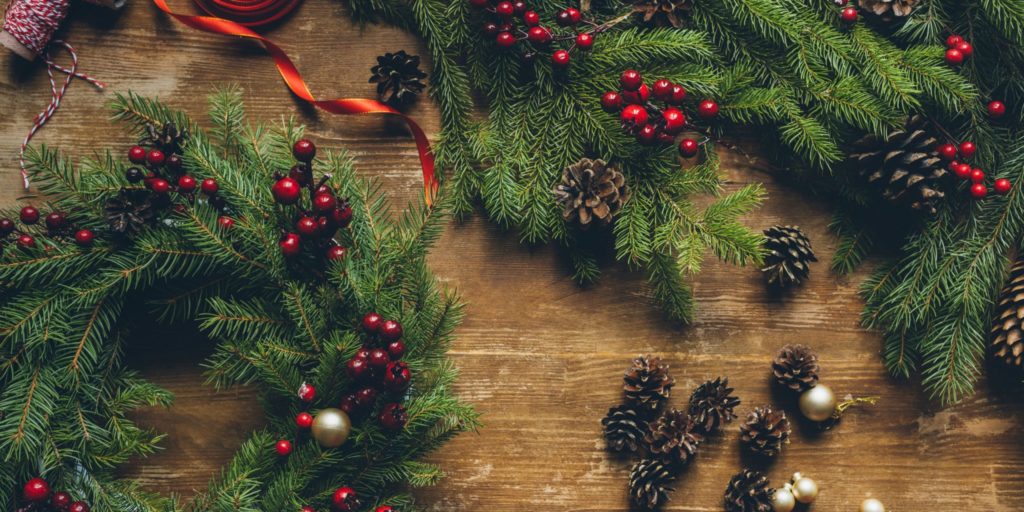 Holiday Greenery
Holiday Greenery
Sometimes there is no greater joy than decorating your home by yourself. Patuxent has a wide selection of holiday wreaths and fresh cut greens and berries so you can decorate and create a cohesive theme for your home.
You can find both fresh and artificial wreaths, swags, trees, and garlands. If you'd rather go with one of our designs, we have pre-made and custom made centerpieces for your Thanksgiving Holiday and Christmas Holiday. Our pre-decorated wreaths are made in house, come in an array of colors, and are both artificial and fresh!
*Remember to keep your fresh, live greens misted and use Wiltproof or Wiltstop to prolong their life so they stay beautiful throughout the holiday season.
Stop by the nursery today and pick out your Holiday Wreaths & Fresh Cut Greens. We have everything from White Pine Garland to Fraser Fir Wreaths and everything in between. Out of the area? You can purchase from our online store, Garden Goods Direct.
---
Christmas Trees
As the ultimate symbol of Christmas and the turning of the seasons, the Christmas Tree has become a family tradition like no other. Decorating with lights and personalized ornaments, this household centerpiece holds such great memories and an important place in our hearts. This season, choose Patuxent Nursery as your Christmas Tree destination and bring home your holiday cheer today.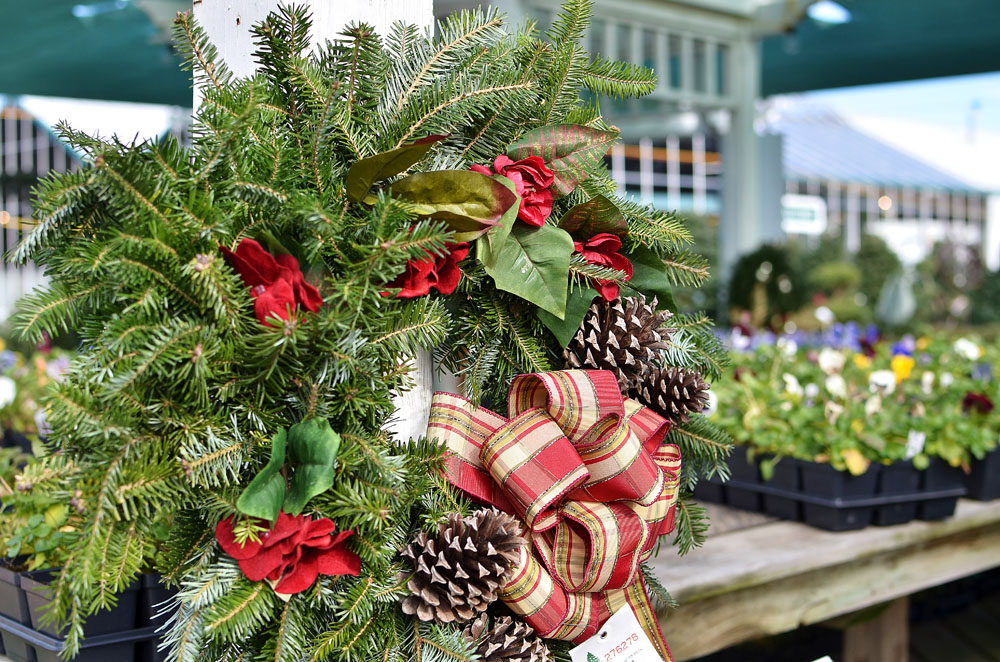 Holiday Wreaths
Patuxent offers a wide selection of holiday wreaths that are perfect for any home. From 16 inch to 60 inch, we have the perfect wreath taking center stage in your holiday decor this season, whether over the fireplace, on the front door, or on windows. They can be adorned with a single bow or festooned with berries, trumpets, or other decorations to match your décor. We do offer pre-decorated wreaths made in house! The possibilities are endless.
Garlands and Swags
Garlands and swags are the perfect choices for mantles, doorways, covered porches, and railings. Let your creativity flow and try weaving coordinating ribbons around a swag for a stunning contrast or attach cones, berries, and dried/silk flowers with a dab of hot glue. Buy them plain and adorn them with decorations to create one-of-kind custom garland and swags to showcase your personal style. Patuxent Nursery has pre-lit faux greens or live fresh greens to help you create a warm inviting home this winter. 
---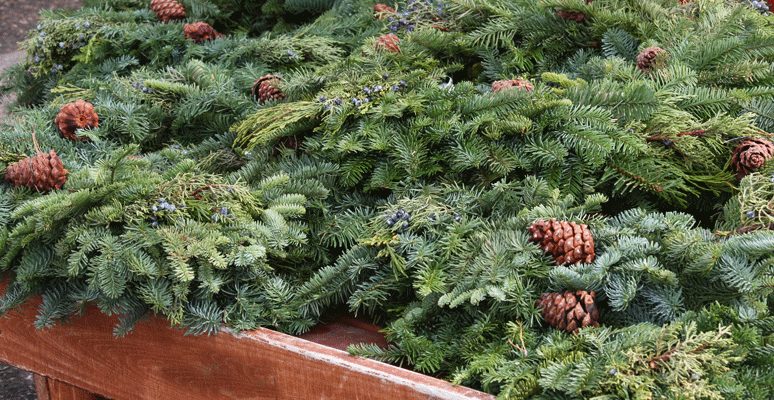 Fresh Cut Christmas Greens
Fresh Christmas greens look and smell great and are a festive addition to any holiday decor!  Scatter them on the mantle, tuck them behind pictures or fill a vase or basket with assorted greens and berries. Tie a bunch together with a big bow for a delightful, simple door decoration. Mix and match greens – there are so many easy ways to use them around the house for the holidays.
Winter Interest Containers
Many gardeners have containers in their gardens, patios and entrance ways. There is no need to give up on them just because winter is approaching. In fact, this is the time our gardens are in most need of some color and winter interest. You can even use the containers that held your warm season plantings, as long as they are frost resistant.
Creating a winter design is not difficult but plants are less cold hardy in a container than when planted in the ground because the roots are not insulated from the freezing temps. The general rule for plant survival through the winter is to use plants hardy to at least two zones colder than your USDA Hardiness Zone; which is zone 7 here in Maryland.
The good news is that winter containers usually only need to be checked monthly for water to make sure they haven't dried out. When the soil becomes frozen solid, watering is no longer necessary.
When it comes to designing your winter interest container, keep in mind the same combinations of "thrillers, spillers and fillers." Small evergreens such as boxwoods, small arborvitae and dwarf spruce trees can be the backbone of your display. Evergreens are not limited to trees and shrubs though. Hellebores, ground covers and some ferns will maintain their foliage through the cold months to provide the fillers and spillers for your container.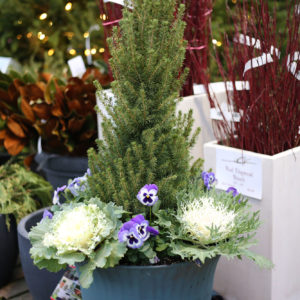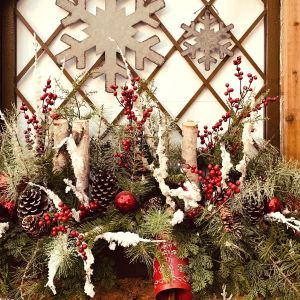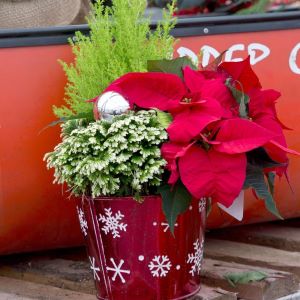 Winter Interest Plants
Finding plants that can tolerate colder temperatures is no easy task. Luckily, we've done the hard work and assembled a winter interest section at Patuxent Nursery. The plants that you'll find in this section are our favorites for cold weather. Check out our current selection at Patuxent Nursery and bring cold weather color to your home. Check back often, as we are constantly tailoring our winter interest section to the best plants for the season.