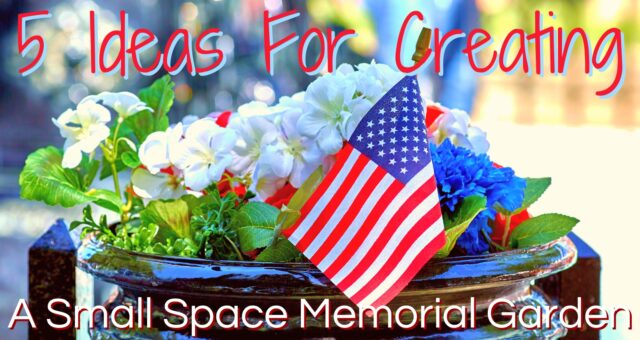 5 Ideas for Creating a Small Space Memorial Garden
Honor fallen loved ones this Memorial Day weekend.
Memorial Day marks the time to honor and reflect on the memories of fallen loved ones. Gardens are an ideal place to create a beautiful space of solitude and peace for remembering them. 
You do not need a large garden to create a memorial space. Keeping things simple can often be the best choice. Here are a few ideas for how to create a memorial garden in a small space:

1. Keep It Simple
A memorial garden does not need to be filled with tons of plants and take up a large part of your landscape. The less involved, the better. 
Start by picking a few plants that remind you of your fallen loved one(s). You can do a red, white, and blue combination, or just pick a few of their favorite plants. Choosing perennials for your memorial garden allows them to come back year after year.
Before you begin planting, make sure the area that you have chosen receives enough sunlight for the plants that you have chosen. The last thing that you want to do is to put your plants in the wrong growing conditions.
Adding a few statues to your garden can make a massive difference. Soldiers, angels, and eagles all make great representatives of loved ones and their protection over the garden that you have planted in memory of them.
Another personal touch that you can add to your garden is a bench or marker. A small concrete garden bench and stepping stones with meaningful sayings can provoke deep thoughts and allow you a place of rest in your garden.

2. Plant A Specimen
Planting a single specimen goes a long way. Trees, like Japanese Maples, make a statement that will last for years to come and do not take up much space in a landscape.
Planting a specimen requires less work than an entire garden to maintain, and does not require replanting every year. 
The quiet beauty of a specimen makes a memorial garden all on its own. Consider adding a bench or glider underneath it to sit by and soak up all of the memories it represents.
3. Plant A Container Garden
Consider planting the smallest garden, a container garden! You can place them virtually anywhere and they require less maintenance than a traditional garden.
Typically container gardens are made up of annuals, such as petunias or geraniums, but you can mix perennials in there as well! Check out how to build a container garden for more information and ideas on spring planter combinations.
As a final step, to maximize the size of your memorial garden, try adding statuary around the base of it.

4. Build A Window Box
If you are someone that has very limited space, consider planting a window box. You only need a few inches of space outside of your window for this type of memorial garden.
Every time you look out of that window, you can talk to your loved ones and be reminded that they are watching over you.
Building a window box follows the same basics as a container garden. When choosing your plants, consider the life that pollinator plants can bring. Adding "spillers" like Lantana to your window box can attract bees, birds, and butterflies to your memorial container.
All of the options above can also be combined to build a larger memorial garden. Planting a garden with a window above and planters beside it will turn your small memorial garden into a much larger one.

5. Get Creative: Try A Hanging Basket
For those that may not have a window or the right lighting conditions for a window box, try planting hanging baskets!
This type of "garden" can hang around anywhere! Whether you choose to have a bunch in one section of your home, a few spread out, or just one for yourself, they all represent your support for our fallen soldiers.
Build your own hanging basket(s) following the "thriller" "filler" "spiller" rule, or check out our red, white, and purple petunia premade ones. 
Whatever you choose to design, make it meaningful and take your time. Happy Memorial Day and thank you to all that have served!