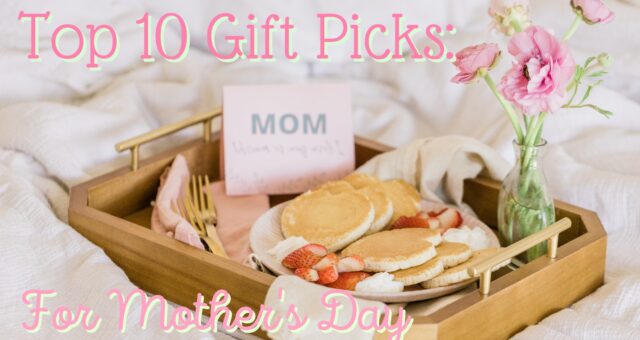 Top 10 Gift Picks for Mother's Day
It's that time of year again; Mother's Day is right around the corner! Instead of waiting until the last minute to pick something up, this year give that special woman (or women) in your life gifts that will WOW. Whether you choose a living or non-living gift, you are sure to enhance moms outdoor living space that will remind her of you and your thoughtfulness for years to come! 
We rounded up our top 10 picks for Mother's Day gift ideas to make your shopping easier:
1. Hanging Baskets
Add an instant pop of color to mom's porch or patio with a hanging basket! Hanging baskets are the perfect gift for those who don't have a lot of room in their garden beds, or live in a smaller home. Whatever her favorite color or bloom is, we've got it. There are loads of different varieties and sizes at our nursery. From petunias to begonias, you can be sure that this is a gift that mom will love!

2. Flowering Shrubs
Flowering Shrubs, such as roses and hydrangeas, make stunning statements wherever they are planted. Roses are a popular choice for a Mother's Day gift, but instead of cut roses, consider tea, floribunda, or David Austin roses. This way she will have flowers all spring and summer long for years to come!
Hydrangeas are also a popular choice and we have tons of options to choose from. With their large, dramatic blooms, these beauties are a site to see. Like roses, they also make excellent cut flowers that will dry beautifully!

3. Tropicals
Nothing says 'it's summertime' quite like tropical plants such as palms or canna lilies. They add vibrance and unique texture to any landscape or patio space. Although tropicals are considered annuals in this region, many of them can be brought inside once temperatures drop and brought back outside the next year. This gift brings warm, summery vibes all year long!

4. Flowering Perennials
Buy her the flower arrangement that will come back year after year. Perennials like peonies, dianthus, and daylilies make for excellent cut flower arrangements. These blooms will be fresher and more fragrant than any store-bought ones you could give her. All bloom season long she will have fresh bouquets all thanks to you!

5. Outdoor Furniture
Let mom sit down and relax on Mother's Day and every day after! Pick her up a beautiful set of Adirondack chairs or garden benches so she can sit in comfort while enjoying the splendor of the outdoor oasis she created. 
Is mom looking for an outdoor space the whole family will love? Check out our selection of outdoor dining and furniture sets to create living spaces that will bring all of her loved ones together!

6. Garden Statuary
No garden is complete without statuary to add that special personal touch. Giving mom the gift of a guardian angel, guard dog, or soldier will show her that her garden is protected.
For a more whimsical touch, add some of our garden sayings and other fun animal options to her flower beds. Show mom that you understand her taste and humor with statues that remind you of her!
For the best combination, choose a mixture of both to make her feel safe and whimsical. No matter which statues you choose, they all provide a great reminder to your mother that you are thinking about her.

7. Gardening Tools
Get your mother excited to start her garden by picking her up some new tools. Grab her a new hand rake, trowel, and pruning shears so that she can plant all of the new perennials, shrubs, and tropicals you got her! Make her life easier by giving her the tools she needs for gardening success.

8. Gardening Gear
Our gardening gear, not only looks great but will also keep your mom feeling great while being outside. A new hat will protect her head from the sun, gloves will protect her hands, and sloggers make walking around the garden more comfortable. Check out all of the different styles we have available!
9. Birding Equipment
Whether your mother is a horticulture expert, does not have a green thumb at all, or falls somewhere in between, birding equipment is always a great gift! 
Everything you need for wild birds, hummingbirds, and bats is here! We have a large selection of feeders, houses, suet, seeds, and bird baths available. Our bird baths range from lightweight to concrete, perfect for any landscape. Bring beautiful sights and sounds of birds to your mother all year long!
10. Gardening Accessories
Looking for a gift that mom can take with her anywhere? Check out our gift section! Grab her a new coffee mug, swig, or tumbler for when she's on the go. Pick her up a new tote bag or pouch for storing her gardening gear in.
For the mom that enjoys her peace and quiet, take the fun route with a suncatcher, garden-themed notebook, or candles for her to enjoy personal time with. Give her the gift of something bright, colorful, and useful when it comes to gardening!

Bonus: Gift Cards
Still unsure of what to get your mother? If she's a plant lover at heart, she'll appreciate a gift card to pick up her favorite flowers and garden accessories. Gift cards can be purchased online and printed at home, or picked up in-store for convenient gift-giving – perfect for the indecisive gift giver! Give mom the gift of choice this Mother's Day.