Tips for Creating an Outdoor Living Space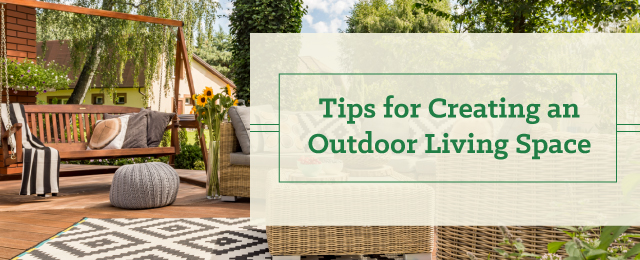 Outdoor living spaces are peaceful spots that allow homeowners to enjoy fresh air and open space. Approximately 70 percent of homes in the United States have some kind of outdoor living space, and about 70 percent of those spaces are used at least once during the season. Are you looking to add an outdoor space of your very own?
Whether you want a professional team to create your outdoor haven or you prefer the DIY approach, here is a handy guide to outdoor living room ideas.
The Biggest Considerations for Planning an Outdoor Living Space
When you first start planning to design or build an outdoor living space, you will have to answer questions to help bring your vision to life.
How will you use your outdoor living space? The answer to this question is the perfect place to start. Do you want a place to entertain? A place for the kids to play? A place for privacy? Once you know the answer to that question, you will have a basic idea of what your outdoor living space should be. If you want to entertain, think about options like a firepit and seating or an outdoor bar/kitchen. For kids, think about a patio that looks out over a playground. If you want a space to reflect and get in touch with nature, maybe a garden and a pond are more your taste. Your interests will help guide your decisions about this project.
How much space do you have? Don't be afraid to dream big, but you only have so much outdoor space. Take stock of the space. You can even do some preliminary measurements. Knowing how much space you have before you get started will help you avoid wasting hours on a plan that will never fit your outdoor space.
What is your budget? This is another practical consideration, but an important one. When you start your research, you will probably see so many beautiful photos of outdoor spaces you'll want to recreate. Before you fall completely in love with a concept, set yourself a budget. Things like a grill can cost anywhere from $1,000 to $15,000. Write down all the things you want to include in your outdoor living space, and research price points for each one. Add it up to find your total target budget.
What's the weather like? You can have an outdoor living space in all different kinds of climates, but you will need to keep the weather in mind. You want your outdoor space to survive the elements. If you are worried this will be an issue, you can always consider designing and building a screened-in space.
How much maintenance do you want to do? An outdoor living space is like any other part of your home, and it will require some upkeep. Try to ask yourself and answer honestly: How much work do I want to do after the outdoor space is finished? If you can't imagine yourself weeding and watering, maybe skip the elaborate garden.
Are there any rules you should know? Your city or homeowner's association could have specific rules that dictate what you can and can't do or have when creating an outdoor living space. Make sure you look those rules up ahead of time.
What's your style? Now for the fun part. Planning and creating an outdoor space is about expressing your personal tastes. Do you want a rustic aesthetic? Do you want an upscale feel? Explore the different styles and materials that could go into your outdoor living space to find an image that fits with your preferences. If you don't have any idea where to start, go online to get design ideas for outdoor living spaces. Find some inspiration from what other people have done to help you start on creating your own unique space.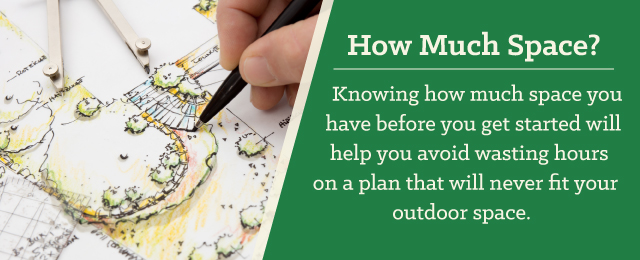 Picking the Right Pieces for Your Outdoor Living Space
You have so many different options when it comes to picking out the pieces that will bring your outdoor together. Here are four different big elements of an outdoor living space and tips on how to make your choice.
Base design. The biggest piece of any outdoor living space is the base design. Will you have a patio, porch, deck, landscaped space or a gazebo? You can narrow down the answer to this question by knowing your budget and space limitations. From there, you get to decide what kind of material you'll use to build the space. What kind of stone will your patio be? What kind of wood will be used to build your deck or your gazebo? You can make those decisions by thinking about what will be able to weather the elements and what will match your style and the exterior of your home.
Seating. No matter how you will be using your outdoor living space, you will probably want a comfortable place to sit. Think about what will go with your vision: couches, chairs, chaise lounges, a hammock? Take into account the space you have and what you will be doing in your outdoor space. Do you want to eat outside? If so, it will make sense to have some kind of dining table and chairs. When it comes to selecting the style, you will want furniture that can withstand the outdoors, but aside from that, you can have fun selecting the colors, patterns and materials of your outdoor furniture.
Eating. Many people design their outdoor spaces around the idea of dining. This means picking things like a grill, a bar and kitchen equipment. To help you narrow down your focus, think about how many people you'll typically entertain in the outdoor space and how elaborate you want your outdoor meals to be. If you are envisioning laid-back, family-style meals in your outdoor space, you can focus on getting a nice grill, either a built-in one or a standalone model. If you think you want to throw bigger parties, you can explore creating a full outdoor kitchen complete with a bar, appliances and a sink. Your budget and your vision will help guide you through this part of the decisionmaking process.
Entertainment. Entertainment is a big part of the design of your outdoor living space. Do you want something big, like a pool? Or are you envisioning something smaller? A fire pit or outdoor fireplace are popular options. Imagine gathering around with your family for a night of s'mores and other campfire goodies. Another entertainment consideration: Do you imagine guests staying outside for most of the time you're hosting, or do you want to make it easy for people to move between the inside of your home and the outdoor living space? Knowing the answer to this question can help the direction of your design.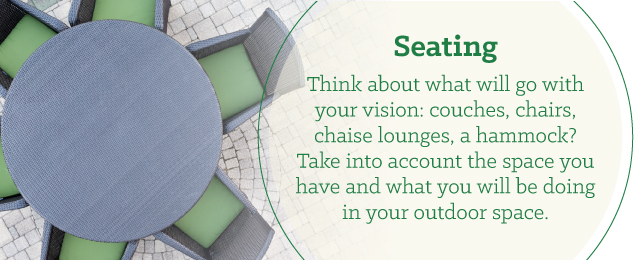 How to Accent the Outdoor Space
Design accents can be the finishing touch that really makes an outdoor living space your own. Of the people who have an outdoor living space, 36 percent want to update the style of the space, and 28 percent want better accessorizing. Here are a few different elements that can accent your outdoor space.
Plants. Outdoor living space is all about making use of natural beauty. So, what better way to accent your space than plants? You can opt for a full garden, landscape designing or just a few small, potted plants for a splash of color. Think about how much maintenance you want to do, how much greenery you want to see in your space and what plants will do well with the amount of sun and shade your space gets. Don't be afraid to try something a little different. If you have a gazebo or trellis incorporated in your space, think about climbing plants, like sweet pea or morning glory, that would create a type of hanging garden. If you are planning to do a lot of cooking in your outdoor space, think about adding an herb garden. You could do something small in traditional beds, or you could try using planters to create a vertical place to grow your fresh herbs.
Lighting. Just because the sun sets doesn't mean you have to go inside. Lighting accents are a great way to keep the party going in your outdoor space. Again, you'll want to think about your style. Does the whimsy of twinkling hanging lights appeal to you? Or would you prefer larger lights? Think about lampposts or a hanging chandelier if you have a portion of your outdoor space covered. You can also get creative with candles — think mason jar holders. Citronella candles are a great way to light up the space and repel insects. If you are nervous about lighting real candles, you can opt for flameless, battery-operated alternatives.
Decor. Your furniture, lighting and plants can be plenty to create a warm, inviting outdoor space, but you also have the option to play around with different decor ideas. Maybe an outdoor rug would be a nice touch for a covered outdoor living room. Maybe some small statues would add a little playfulness to the space. You can also add some colorful throw cushions to your outdoor couches and chairs. Try matching the cushions to flowers growing nearby, or go with a more eclectic mix of hues.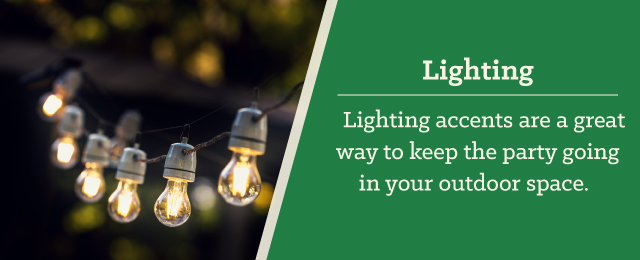 Talking to the Experts 
If you have the skills and motivation to create your own outdoor living space, we applaud you. But, if you are wondering how to design an outdoor living space, you probably need the experts to make your dream come true. Here is a list of questions that will help you through that process.
What can you do with my budget? Your budget is one of the first things you'll want to discuss with a design expert. Make your expectations in this regard clear, and ask what the professionals can do with that number. You will want to factor their professional fee and the expense of bringing the space together into your final number. If you are unsure of what you want your budget to be, you can always have a frank conversation with an expert to guide you toward finding the right price point. Once you are confident with your budget, you can always talk to more than one professional to see which one fits best with your expectations and what you are willing to spend.
What is the timeline for the project? Another key question to ask any professional you are working with or considering working with is the timeline they foresee for the project. How many hours per day will they work? How early in the morning will they start? How long will it take from the design phase to completion? If you are hoping to have the outdoor space done in time for a holiday, like July 4, ask if that is feasible. Once you have established a concrete timeline for the project, ask how the professional team will be held accountable to that deadline. Are unexpected delays, like bad weather or difficulty finding the right materials, factored into the deadline for completion? What will happen if the deadline is missed?
What similar projects have you done? A great way to find a professional landscape artist and/or contractor you're comfortable with is by seeing their previous work. Ask if their team has photos of past projects. If you have an idea of what you what your outdoor space to look like, ask if they have done anything similar in the past. If they have done something similar, ask them to walk you through the process. How long did that project take? Were there any major challenges? A professional who can answer those questions is probably a good fit for your outdoor living space project.
Who will be my main point of contact? Once work starts on your outdoor living space, there will probably be multiple people working outside your home. Before all of that hustle and bustle begins, ask your professional who your main point of contact will be for the duration of the project. That way you aren't left wondering who to talk to if you want an update on the project's status or have issues with how the project is progressing. A good point person will be easy to communicate with and make sure you're happy throughout the entire process.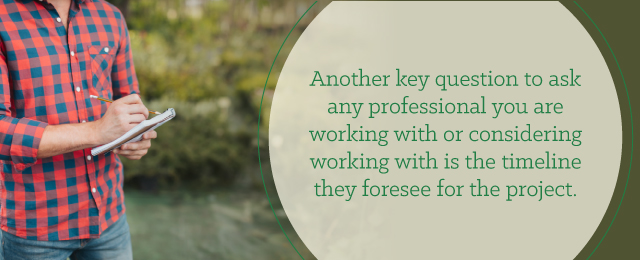 Do you have liability insurance? Building an outdoor living space involves some intensive work. Any contractor in this space should have liability insurance, but you should always verify this before agreeing to work with anyone. Liability insurance covers the contractor if anything goes wrong while they are working on your property. You may also want to ask if the contractor is licensed, which is required in some states. Any contractor should have the proper documentation for proof of insurance and/or licensing. You can also do your due diligence by calling the insurance agency and state to confirm. You want to ensure you are working with a professional and safe company.
When you are ready to get started, visit Patunext Nursery in Bowie, Maryland for inspiration, patio furniture, and professional design and installation services. Get ready to make the most of your home's outdoor space.