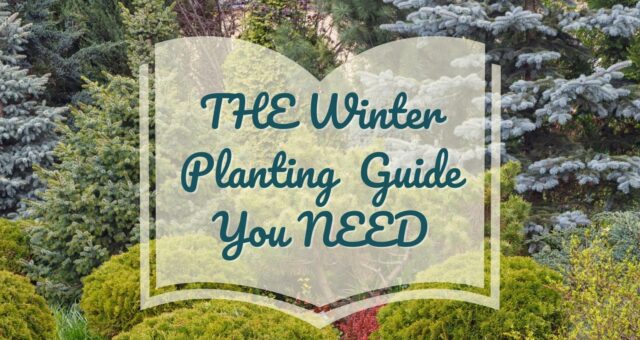 THE Winter Planting Guide You Need
The warm weather may be gone, but that does not mean that the gardening season is over. You can continue to plant in this hardiness zone until the ground is frozen solid. Frost and cold temperatures do not mean the ground is frozen. Check soil temperatures in your area, as long as soil temperatures are above 32 degrees Fahrenheit, you are good to grow!
Besides just planting in the ground, you can also plant in a raised garden bed. Raised garden beds are an excellent choice for winter planting. Check out our blog on the Benefits of a Raised Bed Garden to find out more information.

Reasons To Refresh Your Garden This Winter
Besides just making your landscape more aesthetically pleasing, there are many other reasons to refresh your garden this winter. A refreshed garden can:
Increase your property value

Feed wildlife in the winter

Lessen the workload for spring gardening

Provide fresh air and sunlight from being outside

Improve your mental health

Create less stress for your plants by allowing their roots time to establish before spring

Mulching For Harsh Weather Protection
There are so many benefits to mulching your plants in the winter beyond just the aesthetic appearance. The most important purpose mulch serves is working to retain moisture and protect the root ball from harsh winter temperatures. Read our blog Why You Should Mulch Your Plants In The Winter for an in-depth explanation on the importance.

Watering In Winter
Watering your plants in the winter is just as important as mulching them. Although you do not need to water them in the winter as often as you do in the summer, it is crucial that you do not abandon watering them all together.
You typically want to water every couple of weeks at the most during the winter months. Water mid-day to allow the water to be absorbed by the plants before it freezes in colder nighttime temperatures.
Before any big freeze or winter storm is the most important time to water. It is better for your plant's roots to freeze in ice than to dry freeze. Ice provides a layer of protection to your plants. Dry freezing provides no layer of protection, will dry out your plants, and possibly kill them.
Spraying your plants with Wilt-Pruf will also prevent your plants from drying out during droughts, harsh winters, windburn, and transplanting.

Best Plants For Winter
Winter may not be the best time to plant seeds and sow seeds, but there are still many great options for planting in your winter garden. Conifers and broadleaf evergreens are the best choices for winter. These plants will hold their foliage during the cold months and not go bare.
Conifers tend to be the most cold hardy and survive the best in colder climates. These plants have needle-shaped evergreen foliage. Their foliage comes in a wide variety of greens, blues, yellows, purples, and shades of orange.
Broadleaf evergreens also make an excellent choice for winter. These plants hold their leafy green foliage all year long. They have strong veins in their leaves which help them survive in the winter. Their leaves are typically dark green and flat.

Top Winter Interest Plants:
It is a good idea to plan out which plants you are looking to grow in your garden this winter. Combine different trees, shrubs, and perennials to maximize interest in your landscape. Our blog on Anchors and Foundation Plants provides an excellent description of how to plan out your winter garden.
The trees, shrubs, and perennials listed below are all striking options we have here at Patuxent Nursery to create a breathtaking winter landscape!
Trees
Blue Spruce

Holly

Arborvitae

Coral Bark Japanese Maple

Cedar

Hawthorn
Shrubs
Red Twig Dogwood

Camellia Sasanqua

Winterberry

Holly

Juniper

Arborvitae

Boxwood

Cypress
Perennials
Hellebores

Ornamental Grasses

Winter Plants At Patuxent Nursery
Come check out our wide selection of plants that will enhance your garden this winter. We have everything that you need from trees, shrubs, and perennials, to mulch. If you do not see what you are looking for, then you can ask one of our staff members to show you all of the plants we have available in our hoops. Don't let the cold weather get you down, it's time to get out and get planting!