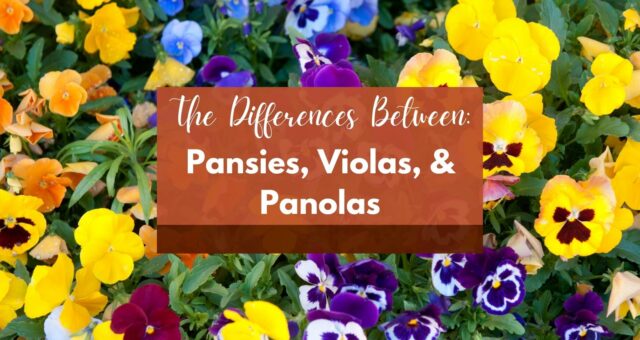 What is the Difference between Pansies, Violas and Panolas?
Pansies, violas, and panolas are some of the best annuals for fall blooms and color! These blooming beauties have some of the most unique colorful blooms and combinations for fall. They may seem very similar, however, there are some distinct differences between them.

Pansies have the largest blooms, but they produce fewer blooms than violas and panolas. They will only have a few blooms at a time, unlike violas and panolas. There are many pansy varieties to choose from, making it easy to find your favorite flower color!
Violas are the smallest blooms but produce more blooms than pansies. Violas will be full of petite blooms. The smaller blooms tend to not get weighed down or affected by weather as easily as larger pansy and panola blooms do. They are also more cold-tolerant and heat-tolerant than pansies. They are the hardiest of all three but have the least color options.
Panolas are the best of both pansies and violas! Panolas have the size of pansies, but with the hardiness of violas. Like violas, panolas are also more cold-tolerant than pansies. They are great for mass planting and have the largest color variety to choose from!

Planting
Cooler weather does not equal the end of the blooming season. Now is the best time to plant pansies, violas, and panolas! All three should be planted now to get the most out of your blooms. Planting these flowers now allows their roots to establish before spring. 
It is best to plant pansies that are already established than to grow pansies from seeds. Seeds can be very finicky to start and take root. Patuxent Nursery garden center is bursting with flowering pansies, violas, and panolas!
These annuals do not like the hot summer months. Spring and fall are the two blooming seasons for these flowers. They will go dormant in the winter, and then begin blooming again in early spring before their season ends in summer. However, they do like to be planted in a sunny area.
Continue to water your fall annuals during the winter months. Although they may be dormant during those months it is still crucial to water them. The roots are better preserved when they do not dry freeze. A dry freeze may put too much stress on them and not allow them to thrive come spring.
Uses For Pansies, Violas, & Panolas
Not only are these garden plants great for planting in the ground, but you can also plant them in other places as well. They are excellent additions to containers, window boxes, and hanging baskets!
They are the perfect "filler" plant to add to a fall container arrangement or window box. You can combine all three for stunning fall and winter arrangements!
Having these plants in a hanging basket lets you add fall color to new heights! Show off your favorite combinations of pansies, violas, and panolas in a hanging basket.
Stop by Patuxent Nursery today to find your favorite color combinations!