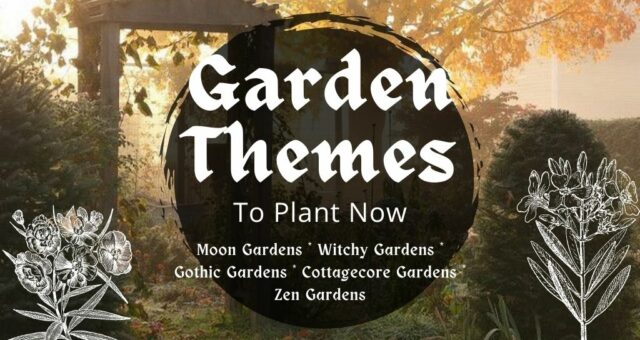 Trendy Garden Themes to Plant Now
Posted on
Annuals, Care Guides, Fall, Featured, Gardening Tips, Hardscapes, Houseplants, Maryland Gardening, Perennials, Seasonal, Shrubs, Spring, Summer, Trees, Winter
Under
Having a garden is a joy; having a cohesive garden that inspires you every time you look at it is simply the best. Create an immersive experience and express your unique style with these garden themes, trending now.
Moon Gardens
Why We Love:
Moon Gardens are meant to delight the senses both day and night. These are typically smaller spaces with loads of white and light-colored flowers, many of which are fragrant. When the moon is full, your garden will reflect that moonlight and bring the night to life. It's truly a magical experience, and worth the extra effort in planting the big annuals each year, such as the night-blooming Moon Flower vining annual.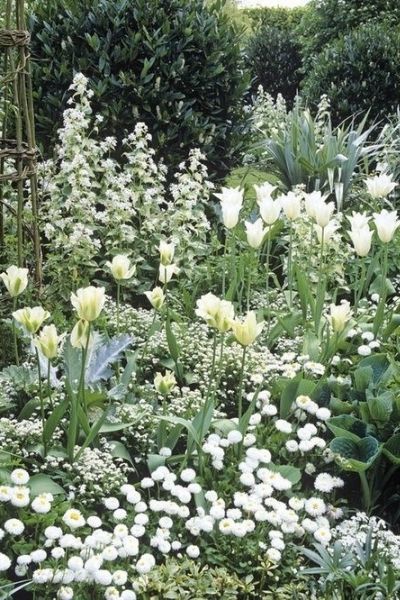 What you'll need:
Lots of plants with wide, white flowers or bright silver foliage that will reflect lots of light from a full moon. Choose your placement so that the full moon isn't going to be blocked when you're outside. Make sure to incorporate a pergola for the vining plants and hanging baskets. Keep outdoor lighting low and warm (i.e. string of lights, Edison-style bulbs, or a firepit), so you can see on nights without a moon but you can also turn them off when your garden starts to glow. 
Plants to plant: 
Cosmos

White Yarrow (Achillea)

Night-Blooming Cactus (in a hanging basket so you can bring it inside in cold seasons)

Mexican Evening Sundrops

Madison Star Hardy Jasmine

Moon Flowers (Ipomoea alba)

White Reblooming Azaleas

Snowball Hydrangeas

Iceberg Climbing Roses

Viburnums

Dogwood Trees

Shasta Daisies

White Caladiums

Dusty Miller

Lamb's Ears

Light Pink or Lavender Peonies

Queen Anne's Lace

Euphorbia

Brugmansia (another Night Bloomer)

Ice Plants (Delosperma)

Autumn Clematis

White Coneflowers (Echinacea)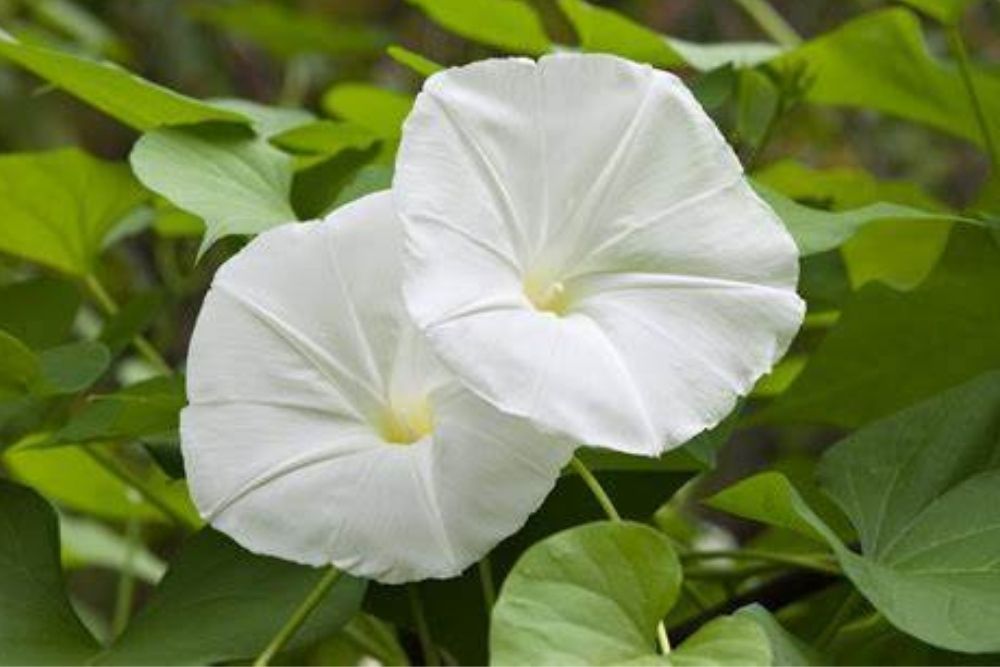 Romantic Gothic Garden
Why We Love:
This is a trend we're excited about and have heard the most buzz about on social media. These gardens recall the moody airs of old Victorian mansions, winding mysterious mazes, moss-covered iron wrought gates and a ghostly figure in a white dress just out of sight. Ok, maybe that last one is from old Gothic novels and not our gardens, but that is the mood gothic gardens are going for. Plant lots of near-black foliage, or plants with black flowers. You can mix in some light touches of white or light colors for that etheral layer of texture, but use light colors sparingly. We want deep, dark, and moody. These are often also referred to as Black Flower Gardens.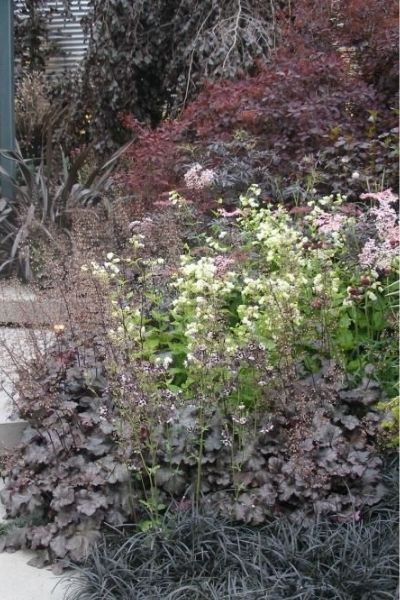 What You'll Need:
Plants with dark purple, burgundy, or black foliage or flowers. Mix in a few light touches or pops of red for contrast. Let your plants grow over each other slightly for the forgotten mansion effect. Choose weathered stone features, such as stone angels, fountains, and weathered benches. We wouldn't say no to some overgrown ivy and moss here and there. You'll feel like a time traveler. 
Plants to Plant:
Black Lace Elderberry

Purple Smoketree

Black Mondo Grass

Persian Shields

Heuchera with dark foliage (such as 'Obsisian' or 'Black Pearl' or 'Sparkling Burgundy')

Ajuga Chocolate Chip

Black King Pansies

Black Ornamental Kale

Black Petunias

Canna Lily 'Tropicanna Black'

Tuxedo® Hydrangeas (These have blood red flowers too, they're perfect!)

Black Sweet Potato Vines

Black Knight Hollyhocks

Darth Vader Iris

Colocasia Black Magic

Plectranthus
For Contrast:
Euphorbia

Ferns

Boxwoods or Hicks Yew (for a nod to those winding hedge mazes)

Spanish Moss

Ivy

Dusty Miller

Barberry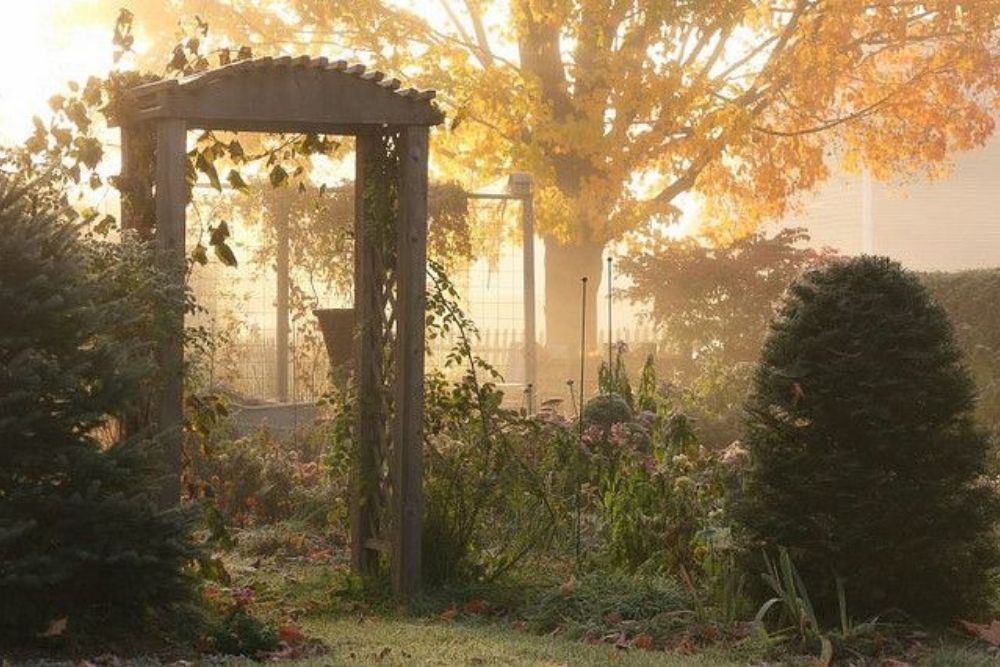 Witchy Garden
Why We Love:
There are actually two trends when people refer to a "goth garden." In addition to Victorian black gardens described above, there are also gardens that pull their themes from witches, both modern and from literature. These gardens often have dark foliage and stone elements too, but they mostly focus on spookier, weirder details: think carnivorous, stinky, or poisonous plants intermingled with medicinal herbs, perfect for either a tea or a spell. Some lean more towards the strange while others lean in the healing direction: it's up to the gardener what kind of magic they want to surround themselves with.  If you can imagine a shady woodland glade where an wise old croon might come out from around the corner and wish you a happy Halloween with her pet fox… then you're on the right track.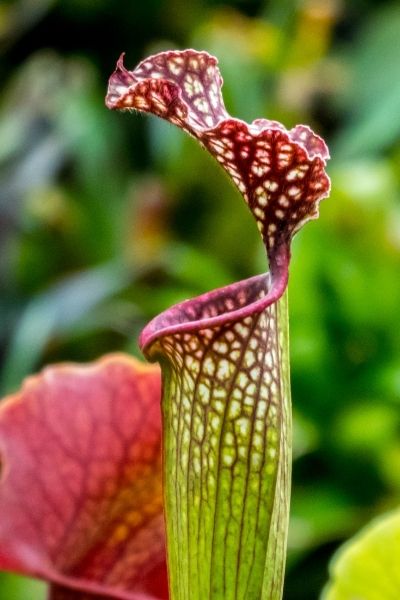 What You'll Need:
Plants with dark and gloomy foliage or flowers, but use these as an accent color. Other colors include blood red, deep indigo, or natural browns and greens. Choose weird smells and strange textures. Focus on mysterious plants, carnivorous or poisonous plants, and herbs. Make sure you mark which is which before brewing any teas! (Make sure pets and children avoid the poisonous plants too.) For hardscaping, stick to natural materials, such as weathered wooden tables and chairs, natural stone, and old wooden trellises. A pond or other natural-looking water feature would fit in well, especially with aquatic plants and lily pads for frogs to enjoy. 
Plants to Plants
:
Bleeding Hearts

Rebecca™ Clematis

Red Roses

Toadlilies

'Tangerine Beauty' Crossvine

Foxgloves 

Monkshood 

Oleander 

Sundew

Pitcher Plant

Calendula

Heather

Poppy

Nightshades

Henbane

Belladonna

Sage

Lavender

Chamomile

Rosemary

Basil

Euphorbia Miner's Merlot

Black Mondo Grass

Persian Shields

Tuxedo® Hydrangea

Ajuga Chocolate Chip

Colocasia Black Magic

Lady's Slipper

Yucca

Spanish Moss

Lesser-Known Herbs Native to Your Area (

Gaultheria procumbens

[Wintergreen teaberry] is one that is native here)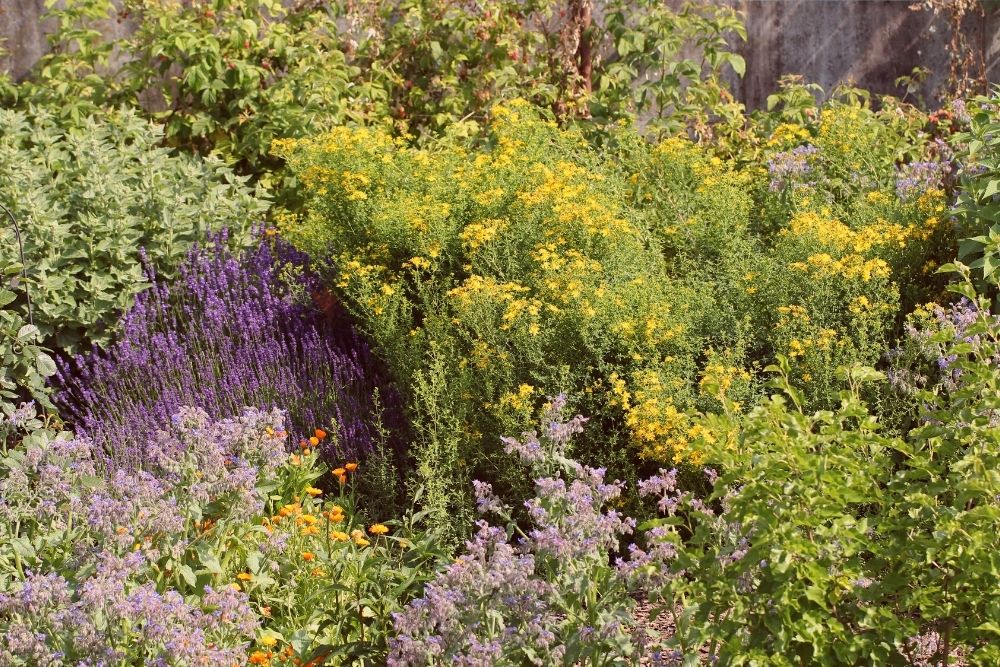 Cottagecore Garden
Why We Love:
Is there a difference between Cottage Gardens and Cottagecore Gardens? They are incredibly similar… but if you know the origins behind both you may notice a few key differences. You can take a cottage garden and give it Cottagecore edge simply by deciding you want to. 
Cottagecore refers to a trend that gained momentum on Tumblr, TikTok & social media. It focuses on a return to simpler times, with ruffled dresses, baking, and rustic self-sufficiency. While cottage gardens take inspiration from the old classic gardens from the English countryside, a true Cottagecore garden will also incorporate the lifestyle that accompanied those gardens. They both share a love for climbing roses and hollyhocks, but Cottagecore will also feature little nods to the rebellion against iPhones and capitalism that started it all. Think beehives or butterfly houses, repurposed furniture into planters, chickens, ruffled lace edges on homemade settée pillows, and all the herbs and vegetables you could want for.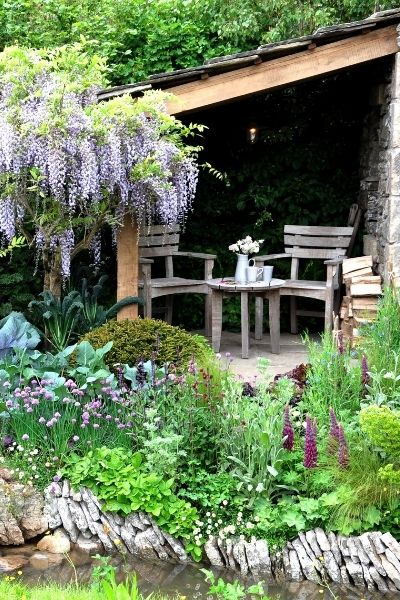 What You'll Need:
Lots of roses, lavender, hollyhocks, wisteria, and other classic cottage garden staples. Easy-going, low-maintenance flowering plants should fill out the rest.  Then mix in your sage, chamomile, mint, and other sustainable-living plants. Leave room for your raised bed vegetable gardens, trellises, and pergolas. For texture, don't forget your ornamental grasses, rockwalls, and birdbaths. A butterfly house or other home for pollinators would fit in perfectly. 
Plants to Plant
:
Climbing Roses

Tea Roses

Lavender

Rosemary

Allium

Black-eyed Susans

Peonies

Euphorbia

Lilacs

Wisteria

Coneflowers

Hollyhocks

Daffodils

Pannicum Grass (for texture and pollinator homes)

Butterfly Weed (for Monarchs)

Marigolds

Salvia

Tomatoes

Pumpkins

Mint

Chives

Basil

Herbs & Veggies

Phlox

Dianthus

Climbing Hydrangeas

Tiarella

Bluebeard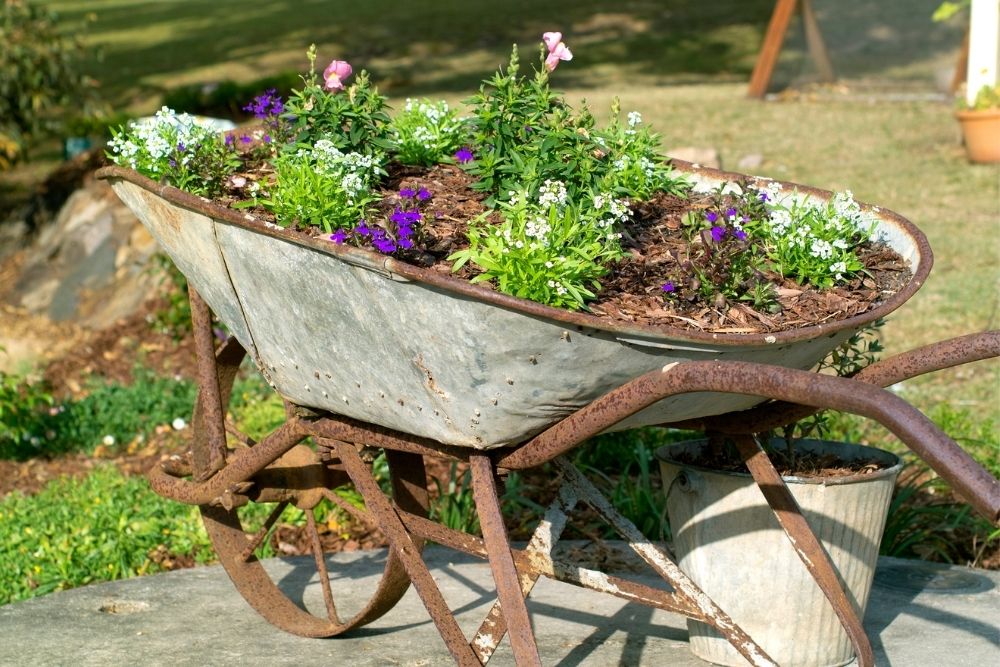 Zen Meditation Garden
Why We Love:
Zen gardens, or gardens inspired by Eastern architecture and aesthetics, have been around for a while and now we are seeing a comeback. The cultural shift towards improving mental health means more people are gardening, and more people are discovering how relaxing a garden space can be. Mixing gardening and meditation into the perfect outdoor space means creating a minimalist sense of peace and harmony. Thankfully, Zen monasteries created an archetype for such a combination. These kinds of gardens don't have too many plants: the ones that are chosen are done so with a sense of mindfulness and purpose. Also, the art of bonsai isn't reserved for indoors: many dwarf outdoor shrubs can be trained into specific shapes, and watching them grow is a meditative practice in patience.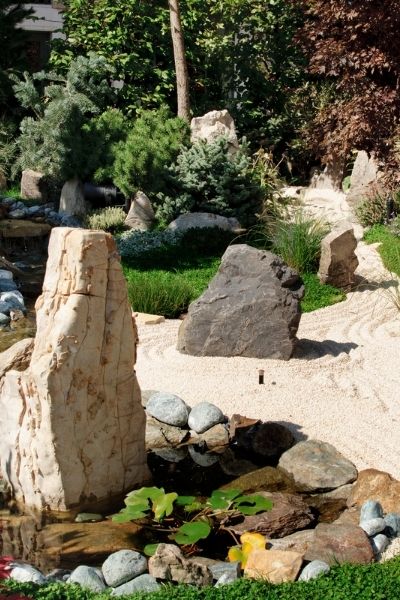 What You'll Need
:
Think Japanese maples, dwarf hinoki cypress, cherry blossom trees, ornamental grasses, and perhaps a flowering azalea. Either space them out in an open, contemporary layout or create a nice nook in a small garden space. Choose a palette harmonious with nature while still adding some color: a few pops of pink, red or yellow among an oasis of greens and browns. The space where you do your meditating is also important: whether it's an open space of lawn or a bench under a Japanese dappled willow, make sure it is comfortable and calming.  Stone Buddhas, pergolas, rock gardens, water features, and babbling fountains help complete the relaxing sensory experience. 
Plants to Plant:
Cherry Blossom Trees

Japanese Maples

Dwarf Hinoki Cypress

Juniper procumbens 'Nana'

Flowering Dogwood Trees

Flowering Plum Trees

Japanese Dappled Willow

Fringe Tree

Purple Sand Cherry Laurel

Azaleas

Camellias

Maidenhair Grass

Switchgrass

Carex

Clumping Bamboo (Don't use regular Bamboo unless you plan to keep it in a container)

Water Lilies & Water Hyacinth

Juncus Grass

Thunderhead Black Pines

Deciduous Magnolias
Any trends we should keep a lookout for? Let us know in the comments!