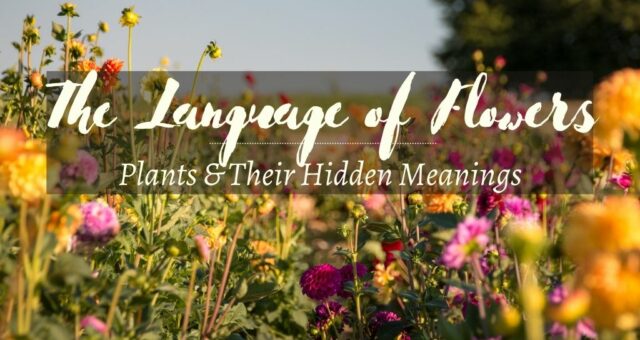 The Language of Flowers – Plant Symbolism
Posted on
Annuals, Fall, Featured, Gardening Tips, Houseplants, Perennials, Seasonal, Shrubs, Spring, Summer, Trees, Winter
Under
"If you look the right way, you can see that the whole world is a garden."– Frances Hodgson Burnett
Flowers, foliage, and herbs have found their way into literature, poetry, folklore, and legends ever since people have been telling stories. Perhaps it's the inspirational beauty of a flower – however it started, each kind of flower holds special meaning to different areas around the world. Greek mythology, Eastern traditions, poetry, and authors around the world all have leaned heavily on the meanings associated with certain plants to add context and meaning to their stories.
In Victorian times, flowers took on a whole new layer of meanings when bouquets were used to communicate covert messages between people. In the late 1800s, if you didn't want to speak your mind out loud, or couldn't, you could give someone flowers instead to express yourself. Even the ribbons tied around the flowers or the hand they were held in could shift the interpretation of the message.
In Japan, the language of flowers is known as hanakotoba, and this tradition adds another layer of meaning. Modern artists are still using floriography, or floral symbolism, in order to convey complex meanings in their work.
Many of these hidden meanings still ring true today. Red roses will always mean "I love you," and mistletoe still communicates a request for a kiss from a sweetheart. The negative meanings haven't stayed as popular – it is much less common to give someone a yellow carnation and expect them to remember that you are saying "I reject you."
Knowing the more subtle meanings gives context and depth to the flowers you give your loved ones this Valentine's Day season, or for any occasion!
Here is a very short list of various plants and the meanings they portray. You can see more comprehensive lists on various websites or in the Farmer's Almanac.
Common Symbolism for Plants & Flowers
Aloe – Affection, Grief
Apple Blossoms – Preference
Arborvitae – Friendship
Aster – Daintiness
Azalea – Temperance, Care, Womanhood
Black-eyed Susan – Justice
Blue Salvia – Thinking of You
Bluebells – Kindness, Humility
Cactus – Endurance
Calla Lily – Beauty
Camellia (pink) – Longing
Christmas Rose (Hellebore niger) – Soothe my anxiety
Chrysanthemum (white) – Truth
Dogwood – Durability
Edelweiss – Courage
Ferns – Magic, Fascination
Forsythia – Innocence
Gardenia – Secret Love, Joy, Good Luck, Sweetness & Purity
Goldenrod – Encouragement, Caution
Hellebore, other – Scandal, Serenity, Tranquility & Peace, Madness
Hibiscus – Rare beauty
Honeysuckle – Devotion
Hydrangea – Gratitude, Frigidity
Iris – Eloquence, Wisdom, Good News
Ivy – Wedded Fidelity
Jasmine – Monetary Wealth, Eternal Love
Lavender – Happiness, Love, or Distrust
Lemon Blossoms – Fidelity
Lily (white) – Sympathy, Condolences, Peace of the Soul
Lily (orange) – Revenge
Lungwort – Devotion
Magnolia, Royalty, Perseverance, Natural Beauty
Marigold – Pain, Joy, Power of the Sun
Narcissus – Rebirth, Selfishness, Unrequited Love
Oleander – Caution
Orchid – Refinement, Elegant beauty
Palm – Victory, Success
Pansy – Rememberance, Thinking of You
Peonies – Bashful, Shyness, Shame
Poppy (red) – Sacrifice, Remembrance for the fallen in war
Rose (red) – Love
Rose (white) – Purity, Truth
Rose (yellow) – Jealousy
Rosemary – Remembrance
Snapdragon – Strength
Sunflower – Pure love, adoration
Tulips – Passion
Wisteria – Welcome, welcoming
Violet – Honesty
Zinnia – Loyalty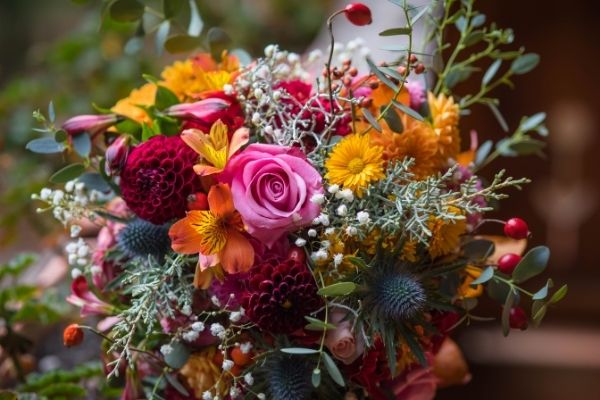 If you're wondering what to give your sweetheart this Valentine's Day, consider something with the right kind of flower so you send the perfect message of love.
Know any other meanings? Let us know in the comments!