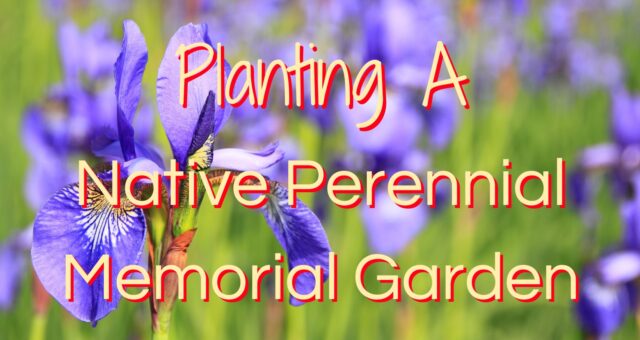 Planting A Native Perennial Memorial Garden
One year ago, we lost a beloved staff member Martha Ann Champion. To commemorate her memory and love of native perennials, we planted her a garden.
Martha Ann loved working in the perennials department and was a big part of our family. For almost 10 years, we had the pleasure of enjoying her bold humor and caring personality. She was a dedicated, remarkable, and unforgettable woman that we wanted to memorialize with some of her favorite plants.
The memorial garden that we planted is a converted space that originally was a water feature. We tore out the water feature, but it still remains a wet area. When choosing native plants for that area, our perennials department chose ones that were moisture-tolerant.
All of these plants would also thrive in a rain garden as well. The perennials we chose are:
Kim's Sunflare Tickseed (Coreopsis verticillata 'Kim's Sunflare')
Kim's Sunflare Tickseed was cultivated by our grower, Miss Kim. This variety of Coreopsis has a deep red center with golden yellow tips, resembling a sun flare! It is great for a sunny area, has a compact growth habit, loves a wet or dry area, and continuously blooms.
There is not much deadheading required to keep this plant blooming. It is also deer-resistant!
Niagara Falls Switchgrass (Panicum virgatum 'Niagara Falls')
This native ornamental grass has bright powder-blue foliage and cream seed heads in the fall. It will reach heights of 3-4 feet and is great for filling a space with texture. This grass provides wonderful movement and soothing rustling sounds when the wind blows through your garden.

Emerald Blue Creeping Phlox (Phlox subulata 'Emerald Blue')
To grow in front of and around Martha Ann's memorial bench, we planted Emerald Blue Creeping Phlox. Creeping Phlox is a low-growing evergreen that flowers in pastel colors. This particular variety will typically produce its petite blooms in May.
Creeping Phlox is also great for xeriscapes and filling low borders!
Bayou Blue Aster (Aster novi-belgii 'Blue Bayou')
One of the most famous fall flowers is definitely Asters. This "Bayou Blue" variety has double dark blue flowers that will bloom from September through October. Its flowers are great for attracting pollinators!
Pennsylvania Sedge (Carex pensylvanica)
This native grass does not bloom flowers, but it does have interesting seed heads. It is great for filling out a low space and makes an excellent substitute for traditional grass, especially in heavy shade and wet areas. As an added bonus, this variety of Carex is also deer-resistant!

American Gold Rush Black-Eyed Susan (Rudbeckia 'American Gold Rush')
Not only is this perennial the Maryland State Flower, but it is also the 2023 Perennial Plant Of The Year! This particular variety has a compact growth habit and produces loads of blooms for months. You can enjoy its golden blooms and the pollinators it attracts from July through September.
Northern Blue Flag (Iris versicolor)
One of the best plants for a rain garden or wet area is the Northern Blue Flag, due to its ability to absorb lots of water. It will even grow in shallow areas of standing water!
From May through June, this deer-resistant Iris will produce interesting blue blooms that have yellow throats. Even when not in bloom, Northern Blue Flag adds great texture to the garden, with its 2-3 foot tall spikey foliage!
Blue False Indigo (Baptisia australis)
Blue False Indigo is a versatile perennial that works great in many types of gardens due to its ability to tolerate poor soil conditions. This plant loves to grow and is resistant to both rabbits and deer!
Once mid-summer arrives, this perennial is full of blue flowers that attract loads of bees and butterflies!

Blue Mist Flower (Eupatorium coelestinum)
Blue Mist Flower is a cousin of the Joe Pye Weed, but does not get quite as tall and has a different bloom color. It is long-blooming, deer-resistant, and spreads nicely. From mid-summer through fall, it produces a plethora of purple blooms.
Blue Ice Amsonia (Amsonia 'Blue Ice')
Blue Ice Amsonia has dense green foliage that is covered in blue star-shaped flowers in the spring. These flowers are great for attracting pollinators to your garden and can survive in a variety of conditions. It is both drought-tolerant and deer-resistant.
Blue Star Flower (Threadleaf Amsonia) (Amsonia hubrichtii)
This variety of Amsonia, Blue Star Flower, or Threadleaf Amsonia, is famous for its striking golden fall foliage color. Its fine feathery, needle-like leaves add a soft texture to the garden. It produces petite blue star-shaped flowers from early spring through summer.

Visit Our Garden
Stop by our perennials department today to check out the garden we have planted and watch its progress. If you have a loved one that you would like to memorialize with a garden, we are always here to help with any tips you may need.