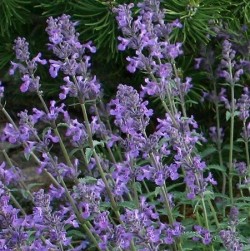 Perennial Favorites: Sun-Friendly Perennials
It's National Perennial Month! We're sharing our love of these lasting beauties all month long. While there are many types of perennials, we've split them into sun perennials, shade perennials, native perennials and pollinating perennials – each week we'll share our favorites from the different categories. Let's start with sun perennials, here are our five favorite sun-loving plants that will brighten your garden all summer long.

Day Lilly (Hemerocallis)
This flower distinguishes itself with its profuse bloom and compact size. It stands at about 16″ tall and is great for containers and landscaped borders. It's an early season bloomer, and blooms early in the morning, looking best in the afternoon and lasts through the night – but each bloom only lasts one day. This perennial beauty loves the sun, but in the South will do best with a canopy of light shade.
Catmint (Nepeta)
Catmint is a fragrant perennial. It looks lovely as a border plant or in a rock garden. It serves a dual purpose by making a tasty treat for your cat. These plants are smothered in flowers during the summer and enjoy full sun. They will grow to be anywhere from 12″ to 3 feet. They are deer and rabbit resistant if you're looking for a bloom that won't be eaten by wildlife.

Standing Ovation (Schizachyrium)
This deer-resistant colored stem perennial requires very little maintenance. The stems turn from bluish-green to shades of orange and purple in the fall. This perennial is also deer resistant and loves full sun.
Plumbago (Ceratistigma Plumbaginoides)
If you're looking for a plant that will do well through the long, hot, humid summers in the DC area, then Plumbago is the plant for you. This lovely blooming plant blooms non-stop through the summer until the first frost. It blooms best in full-sun though it can still do well under considerable shade. It's butterfly friendly while also deer resistant. It is a fast-growing, drought-resistant plant but should be pruned heavily and mulched well. Use it around borders or even in containers for a beautiful spilling effect on a porch or patio.


Geranium
These beautiful jewel-toned perennials are pollinator friendly. They're great for beginner gardeners and look beautiful in containers. In addition, they bloom for 4+ weeks and are deer resistant. They look great along stone walls, rock gardens and provide a small area ground cover if needed.