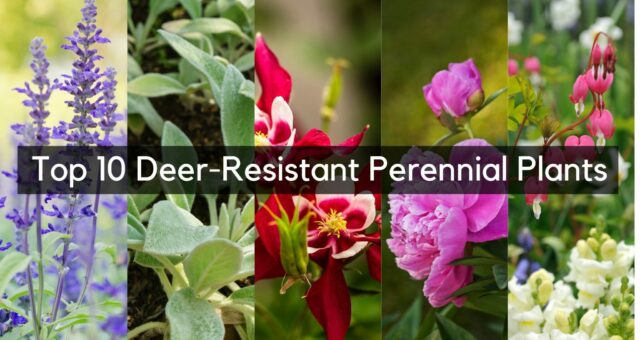 Our Favorite Deer-Resistant Perennial Plants
Your ornamental perennial plants, flowers, and shrubs in your garden should be eye candy, not the candy store for your local deer population. Although it is important to note, it is impossible to completely deer-proof your garden; you can do your best to fill it with plants known for being the least desirable to these feisty forest creatures. Not only are deer-resistant perennials resistant to deer, but because they are, you increase your chances of escaping pest damage.
Your garden will flourish with beautiful colors, unquiet shapes, and fragrant smells with perennials like Peonies, Salvia, Lavender, Lamb's Ear, and more. All of their colors, shapes, and sizes will help keep your garden beautiful all year long. Below are our top 10 favorite deer-resistant perennials we think you need in your garden.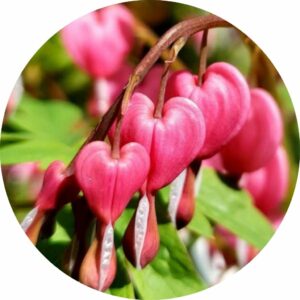 1. Bleeding Hearts
Bleeding Hearts (Dicentra Spectabilis) is a herbaceous perennial that gardeners adore for their charming heart-shaped leaves that dance above green foliage on arching stems. This perennial is an early spring bloomer and likes to be planted in shady borders and woodland gardens. The flowers also make great additions to fresh-cut flower bouquets because of their unique shapes and vibrant colors. Bleeding Hearts can become quite large when grown in the proper conditions like most, well-draining, loamy soil conditions, and partial to full sunlight.
2. Lamb's Ear
Out of most deer-resistant Perennials, it is easy to see why deer would not want to eat spiky foliage plants like Lamb's Ear (Stachys byzantina 'Big Ears'). This plant produces fuzzy, large, silver-leafed foliage. The edges of the leaves are pokey, making it hard for deer to get their mouths anywhere near these plants. We recommend planting your Stachys Big Ears as an attractive groundcover, edging, in tubs or containers. Lamb's Ear's soft, silver leaves also make it perfect for an easy backdrop for companion plants in any garden. This perennial is easy to grow on average, dry to medium, well-drained soil in full sunlight.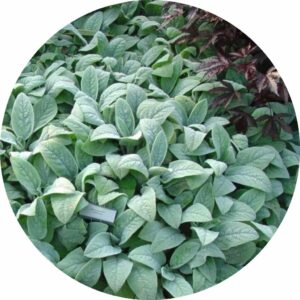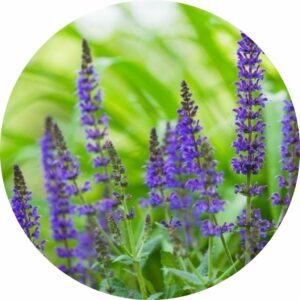 3. Salvia
Deer are resistant to Salvia plants because they stink; well, deer think they stink. Generally, deer stay away from aromatic herbs and other plants like Rosemary, Lavender, Salvia, etc. However, if they do decide to take a bite of your plant, it is typically the flowers and not the foliage. Salvia is most known for its long spires of fragrant purple flowers and adds a unique touch to any garden it's in. Most Salvia perennials prefer to be in average soil, sunny locations, and given an annual application of slow-release fertilizer to promote growth. Drought and heat-tolerant, this perennial does not require much maintenance and attracts beautiful pollinators during its growing season.
4. Lavender
If you're looking for beauty, fragrance, and deer-resistant plants, then Lavender is the perennial for you. These fragrant perennials, most commonly known as herbs, are a lovely addition to any garden. Whether you want them for aesthetic purposes or their utility in the home, Lavender's potent fragrance is the exact reason why deer avoid this plant altogether. Plant your Lavender in with your vegetable and herb garden, or plant them along walkways or driveways or for edging patios or gazebos. Not only are they deer-resistant, but they are also mosquito and fly repellant. Try to plant your perennial in full sun and well-draining soil conditions. Once established, Lavender is a very low-maintenance plant.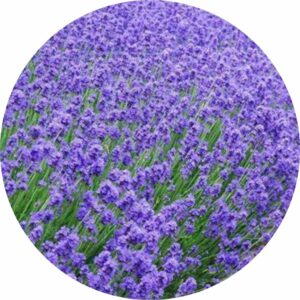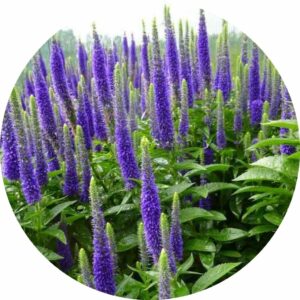 5. Veronica Royal Candles
Blooming from late spring to early fall, Veronica Royal Candles (Veronica spicata 'Royal Candles') produce vibrant, violet-blue flowers in an upright compact habit. From a distance, this plant resembles small blue Salvia. The best area of your garden to plant Veronica Royal Candles is where your plant will receive plenty of full sunlight, in well-draining, average soil conditions, and water until your plant has become well-established. This perennial is extremely attractive when used at the front of a mixed border of plants or mass planting.
6. Columbine
Columbine (Aquilegia Canadensis) perennials bloom colorful flowers that contrast beautiful green, clover-like foliage. They come in many colors, including bi-colored variations and their flowers are a unique, bell-like shape with five colorful spurs. These perennial flowers are native to Maryland and attract pollinators such as hummingbirds, bees, birds, and many more! The best location to plant your Columbine perennials is along slopes, ledges, and any wide-open areas of your landscape.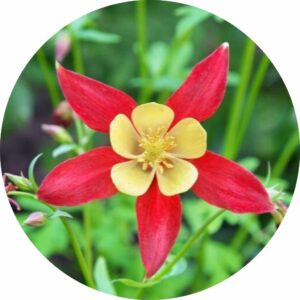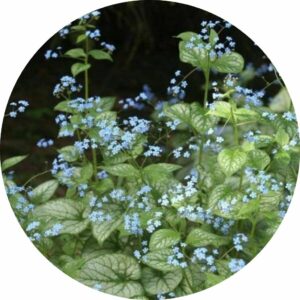 7. Brunnera Jack Frost
Prized for its highly frosted and veined heart-shaped leaves, Jack Frost Brunnera (Brunnera macrophylla 'Jack Frost') will not disappoint in your garden or landscape. When in bloom, Jack Frost will produce bright blue Forget-me-not flowers in the spring. This clump-forming perennial thrives in shaded areas, so if you have an area of your garden that is too shaded for your plants, Jack Frost will gladly thrive in that location.
8. Nepeta Junior Walker
Nepeta Junior Walker (Nepeta x faassenii 'Novanepjun') is known as the sterile, dwarf form of the well-known Walker's Low Catmint perennial. This compact growing,  and herbaceous plant blooms grey-green foliage and soft lavender flowers. You can plant your Junior Walker as a semi drought-tolerant groundcover, along a wall to cascade down as it matures, or in a container as a focal point in your garden. Nepeta Junior Walker and all other Nepeta plant varieties are deer-resistant because deer hate the smell, so they avoid them.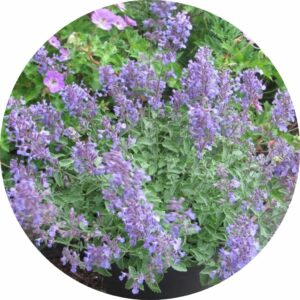 9. Verbena Homestead Plants
Verbena plants produce clusters of rich, vibrant-colored flowers in a spreading habit throughout the entire summer. Verbenas come in blue, pink, lavender, dark red, yellow, white, and bi-colors. These flowering perennials look beautiful in rock gardens but especially great in window boxes or containers. Verbenas are easily grown in average, well-draining soil and full sunlight. It is vital to avoid wet, poorly draining soil conditions because your plant will get root rot disease and die.
10. Peony
Peonies have been widely popular perennial flowers in American gardens since the 1800s. Their large, double flowers produce a sweet scent and come in a rainbow of colors from pure white to rich red and any pastel color in between. Peonies are commonly found in cut flower bouquets and used for all sorts of occasions, but they are also well suited for planting along walkways, sidewalks; anywhere people may walk by is where you should plant your Peony flowers. As long as your perennials are in fertile, slightly acidic, well-draining soil conditions and in full sun, they will last a long time; they may even outlive you!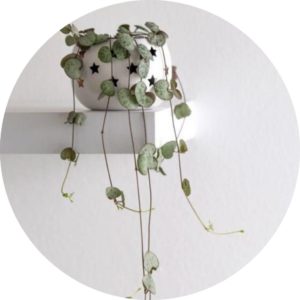 Come into Patuxent Nursery today to shop our huge selection of perennials! Our plant experts will help you find the perfect outdoor perennial that will fit in beautifully with your existing garden or help you buy perennials to start a brand new landscape. Our options are endless, and we are certain you will find what you are looking for here at Patuxent.