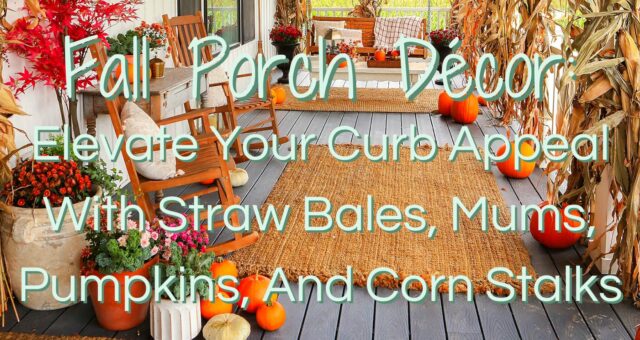 Fall Porch Décor: Elevate Your Curb Appeal with Straw Bales, Mums, Pumpkins, and Corn Stalks
The arrival of fall brings with it the perfect opportunity to transform your front porch into a welcoming haven that captures the essence of the season. With a few key elements like straw bales, mums, pumpkins, and corn stalks, you can create a picture-perfect autumn retreat right at your doorstep. We'll guide you through the steps to craft a cozy and inviting fall porch that will have your neighbors stopping to admire your seasonal style.
Straw Bales: The Foundation of Fall Flair:
Let's start with the basics. Straw bales aren't just for farmsteads; they're the foundation of your fall porch décor. These rustic bales not only provide charming elevations but also offer a perfect place to showcase other fall elements. Arrange them in a row for a classic look, or stack them creatively for a touch of whimsy. If you're feeling adventurous, consider crafting a cozy seating nook with plaid blankets for chilly evenings.
Metal Lawn Décor: The Versatile Choice:
Metal lawn décor goes far beyond a decoration for your landscape. All you need is a straw bale or, if you are feeling creative, a fall planter to get started. Whether you choose to place a few around your lawn, in a straw bale, or planter, they all add an extra layer of fall warmth. The best part is that once you invest in them, they will be with you for years to come!
Mums: Bursting with Autumn Color:
Chrysanthemums, lovingly known as mums, are the darlings of fall gardens. These blooming beauties come in a range of colors, from fiery reds and oranges to cheerful yellows. Potted mums, strategically placed on your porch, instantly infuse your space with the warm, inviting colors of fall. Mix various pot sizes and colors to create an eye-catching arrangement, and don't forget to water them regularly to keep those blooms vibrant.

Pumpkins: Carving Out Fall Vibes:
Pumpkins are the ultimate fall symbol, and they come in more varieties than just the classic orange jack-o'-lanterns. White, green, and heirloom pumpkins add depth and texture to your porch décor. Mix and match sizes and colors, and consider incorporating some quirky-looking pumpkins for added charm. Whether you're carving, painting, or leaving them au naturale, pumpkins will give your porch that quintessential fall flair.
Corn Stalks: Rustic Elegance from the Harvest Fields:
For a touch of rustic elegance, lean bundles of corn stalks against your porch railings or pillars. Corn stalks evoke the essence of a bountiful harvest and lend a sense of height and symmetry to your décor. Secure them with twine or raffia for a touch of authenticity and an extra dose of charm. Corn stalks also serve as an excellent backdrop for pumpkin and mum arrangements.

Autumn Accessories: The Final Flourish:
To complete your fall porch masterpiece, consider adding some carefully chosen accessories. A fall wreath on your front door, made from colorful leaves or dried flowers, welcomes guests with seasonal charm. Lanterns with flickering LED candles add a warm glow on crisp evenings. Scatter faux leaves, pinecones, and mini pumpkins around the porch to enhance the fall ambiance. Don't forget to incorporate cozy blankets or plaid pillows in your seating area for added comfort.
Decorating your front porch for fall is a wonderful way to celebrate the changing season and extend a warm welcome to all who visit your home. With straw bales, mums, pumpkins, and corn stalks as your creative tools, you can craft a fall porch that's both inviting and visually captivating. So, embrace the autumnal spirit, let your creativity flow, and create a front porch that embodies the beauty and charm of fall for everyone to enjoy. If your decorating skills aren't quite what you'd like them to be, stop in and let our decor staff help pick the decorations that best suit your style. Happy decorating!