Container Gardening: How to Get Started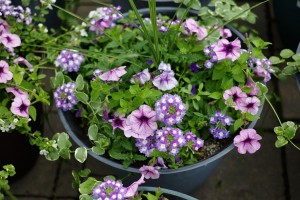 Container Gardening: How to Get Started
If you're looking for a way to brighten up your porch, patio or front entrance, consider adding a bright, colorful container or planter. Not only do containers add beautiful pops of color, but it is an easy way to get started with container gardening.
Choosing Your Container
Choosing the right type of container can make or break your success with container gardening. Make sure whatever container you choose has good drainage and is large enough to allow root development. You may consider a more porous container like unglazed clay, wood, or moss-lined. These types of containers allow moisture to evaporate and are a good choice for plants that need more drying between waterings. Non-porous containers like plastic, glazed clay or metal will hold moisture longer.
Here at Patuxent, we have a wide variety of containers in all shapes, sizes, colors, and materials. If you're into DIY, you may want to use a more non-traditional container. These might be found around the house or garage – an old mailbox, wheelbarrows, buckets, baskets or crates.
Be sure to choose a good potting soil – we recommend Gardener's Gold. Don't forget the fertilizer – adding Osmocote at planting will give your plants the boost they need.
Picking Your Plants
Most people start with annuals for their containers. While annual flowers only last until frost, they will be in bloom all season long. Other flowering plants like perennials or bulbs might only bloom for several weeks. The best designs will incorporate colorful plants with interesting textures, varying heights, and shapes that coordinate with the size and style of the container.
For best results, choose plants with similar sun and water requirements and don't overcrowd them when planting.
Thrillers, Spillers, and Fillers
These terms refer to planting guidelines for container gardening. Thrillers are the focal point; spillers do just that – spill over the edge and the fillers are smaller plants that add color and fill in the arrangement. Some good thriller options are coleus, elephant ears, cannas, and geraniums with multicolored leaves. Common spillers are petunias, bacopa, million bells, or sweet potato vine. Fillers are plants like salvias, marigolds or wax begonias.
Looking for Low-Maintenance?
If you're looking for a low-maintenance container, consider succulents. Succulents such as portulaca, sedum, hens and chicks, echeveria, kalanchoe, and agave make great low-maintenance container gardens. Using more colorful foliage plants means less deadheading. Some of the best foliage options are croton, Persian shield, heuchera, creeping jenny, and coleus. Also, consider a monoculture planter – utilizing only one variety per pot. Some beautiful planters are sometimes designed those with only one type of annuals such as begonias, geraniums, sun patiens, or even herbs like lavender or rosemary.