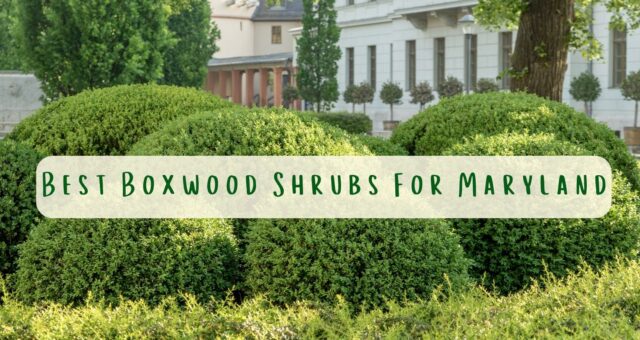 Best Boxwood Shrubs For Maryland
Boxwoods have been a mainstay of the American Landscape for hundreds of years. Boxwoods were one of the very first plants the colonists planted and cultivated. Many plants were brought here by immigrants from their home countries. Many of our country's founders planted boxwoods on their estates.
There are four types of boxwoods commonly available to today's gardeners. American Boxwoods, English Boxwoods, Korean Boxwoods, and Japanese Boxwoods. There are many cultivars created by crossing the various species.
Boxwood is one of the easier plants to grow and care for, and it makes perfect plants for new gardeners because of its easygoing nature. Maryland's climate provides one of the best climates for Boxwoods. We can grow a wide variety of the boxwood family in our gardens.
The green leaves of boxwoods are often seen adorning wreaths and other decorations during the holiday season. Boxwoods are very versatile when it comes to their usability in the garden. They are available in many sizes and shapes, including rounded, upright, pyramidal, and spreading. These evergreen shrubs can be trimmed into decorative topiaries, shaped into tall hedges or privacy barriers, or even planted alone as specimen plants.

Selecting A Location For Boxwood Shrubs
Boxwoods prefer a small amount of shade from the hot afternoon sun, although there are varieties that will thrive in full sun. They are very forgiving regarding soil types, provided the soil is well-drained and nutrient-rich. Boxwoods will not do well in soil that stays wet for extended periods after rain, so avoid "wet spots" when choosing a location.
Choosing The Best Boxwood For Your Garden
Boxwoods range in height from the diminutive Dwarf English Boxwood (Buxus sempervirens suffruticosa) at 1 foot tall to American Boxwood, which can reach up to 12 feet tall. This range of heights means that there is a boxwood to suit any garden size.
All boxwoods are evergreen; however, some are better at maintaining their dark green color through the winter. The Winter Gem Boxwood is known to turn a bronze color in the winter but is also known as the first variety to become green again in the spring. On the contrary, Wintergreen Boxwood stays green in the winter reliably.
If you like to have a variety of colors in your winter landscape, we recommend choosing a mix of varieties. There are many opinions on the bronze coloring of some boxwoods in the winter. Some gardeners prefer green types; while others are fond of the warm bronze tones some boxwoods take on.

Best Dwarf Or Low Growing Boxwoods
Sprinter Boxwood
This Japanese boxwood variety is fast-growing and has shown excellent resistance to Boxwood Blight. The Sprinter Boxwood can get to 4 feet tall and wide, but with trimming can be kept to any of those heights. Buxus microphylla 'Sprinter.'
Northstar Boxwood
The Northstar Boxwood maintains a natural globe shape with very little trimming. It holds its green color in the winter and has good resistance to Boxwood Blight. Northstar can reach 2.5 feet tall and wide.
Wedding Ring Boxwood
Wedding Ring Boxwood is a Korean variety that produces variegated leaves. The outer edges of the leaves start a lime-green color and turn golden-yellow in the fall. Reaching only 3 feet tall, this boxwood is perfect for low hedges but steals the stage when planted in containers or patio pots.
Baby Gem Boxwood
Baby Gem is the little brother of the Winter Gem Boxwood. It holds its green color all winter and is perfect for a low hedge along walkways or driveways. Typically reaches only 3 feet in height and width.
Green Ice Boxwood
Green Ice is one of the best choices for a manicured hedge or topiary. The leaves are small and dense, meaning they remain as dense as if they were untrimmed after trimming.

Best Mid-Sized Boxwoods
Green Velvet Boxwood
This plant has a naturally rounded form. Green Velvet can get 4 feet tall and wide, making it one of the best choices for hedges.
Green Mountain Boxwood
The bright green foliage of green mountain boxwoods stays green through the winter. It has a natural upright cone shape making it an excellent choice for topiaries and accent shrubs. Try planting these in large containers on either side of your front door. Typically can reach 5 feet tall and 3 feet wide at the base.

Best Large Boxwood Shrubs
Winter Gem Boxwood
Winter Gem, as mentioned above, does turn a bronze color in the winter. It is also known as one of the hardiest boxwood shrubs available. It is fast-growing and tolerant of Boxwood Blight. This boxwood can reach up to 6 feet tall and wide if untrimmed.
Green Beauty Boxwood
The green beauty boxwood plant is one of the most heat and drought-tolerant boxwood available. It can reach up to 6 feet tall and wide, and due to its drought tolerance, it can be used as a container plant with no worries.
American Boxwood
The American Boxwood is the tallest and most robust of the Boxwood varieties. This boxwood can reach heights of up to 12 to 14 feet and can grow to 10 feet wide. This is the boxwood that surrounds the properties of historic estates and gardens.

Best Upright And Columnar Boxwoods
Dee Runk Boxwoods
The Dee Runk Boxwood is a relatively fast grower that can be used to make a narrow hedge or planted through the garden as accents or focal points. They can reach up to 8 feet tall but only 2 feet wide if untrimmed.
Graham Blandy Boxwood
Reaching up to 9 feet tall with excellent resistance to Boxwood Blight makes this boxwood an excellent choice for tall hedges. Slightly hardier than Dee Runk allows it to grow further north.
Green Pillar Boxwood
Green Pillars do not brown out in the winter and are very full and dense. They can reach up to 9 feet tall and are slightly slimmer than the other columnar varieties.
Boxwood Blight in Maryland
You might be wondering what Boxwood Blight is, as we've mentioned quite a few times in this blog. Boxwood Blight is a disease that affects only boxwoods. Nurseries that sell plants in Maryland must be inspected for any signs of this disease. Rest assured that when you shop at reputable nurseries, they've been inspected and certified to be free from boxwood blight. For more information about boxwood blight, please see the Maryland Department of Agriculture bulletin on this disease.