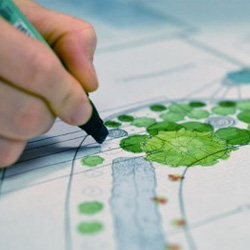 Benefits of a Professional Landscape Design
There are many reasons for investing in a professional landscape design.  First and foremost, a small upfront investment in a landscape plan will save you money in the long run. A professional plan will not only have the correct plants for the different areas of your yard, but it will also address many issues that a homeowner may not even consider.
A homeowner typically only thinks of plants when planning landscaping. This is actually the last thing a professional landscaper should consider. A landscape plan should address light conditions, wind direction, drainage problems and how the homeowner plans on using the different areas of the yard.
Professional Landscape Design Controls Costs
After handling things like drainage issues then the anchor pieces of the project can be installed.  The plantings serve to help accentuate these features. Without a plan to guide you systematically to your dream landscape you may end up incurring additional labor costs and losing plant material because it needs to be moved for installation of things like patios, retaining walls, water features or sculptures.  A professional landscape design plan allows you to tackle the project in an orderly process.
Landscape Design Helps Plants Thrive
Homeowners often fall in love with a plant they saw online or in a magazine article.  While the pictures look great, the plants may not do well in your zone or a particular micro-climate of your yard.  A professional landscape designer knows what plants will thrive at your house. By choosing the correct plants you save money, time and your landscape can shine.
Design Helps Improve Curb Appeal
Curb appeal is what it's all about.  Landscaping is one of the few investments that is guaranteed to raise the property value of your home.  Trees and shrubs only increase in value as they mature and a well-landscaped home will sell for more and sell faster than similar properties in the area.
Whether you plan to tackle your landscape project yourself or you're looking to have a professional do the installation, having a landscape design plan can save you time and money. Meet the experienced staff at Patuxent Nursery who can help guide you through the process to your dream landscape.