A Professional Landscape Design Plan Can Save You Money

There is no better time than right now to start putting the pieces together for your next landscaping project. You know you want to make some changes but what do you do first? Should you get a professional landscape design? We've answered your questions and outlined the steps for you in this blog post.
Start Day Dreaming
Think about what your ideal front yard and backyard looks like. Be sure to include not only the front and back yards, but the side yards as well.
Prioritize
What updates are most important to you? Are you looking for more entertaining space or low fuss landscape beds? Do you need curb appeal? A play area for your children or more trees for shade or privacy? Is the landscaping around your pool lacking? Put your thoughts in priority order.
Budget
Now you have your priority list and next you need to create a budget for each priority. Be specific in your budget and it will save you money in the long run. A well thought out budget will guarantee your success – it may even inspire future inclinations to set up your own landscaping business.
Professional Landscape Design
You've got your priority list and you've set your budget. Now it's time to meet with a professional landscaper for your landscape design plan. Do you need a landscape design plan? The short answer is yes, you do.
Without a plan to guide you systematically to your dream landscape, you may end up incurring additional labor costs and losing plant material because it needs to be moved for installation of things like patios, retaining walls, water features or sculptures.
A small upfront investment in a landscape plan will save you money in the long run. A professional plan will not only have the correct plants for the different areas of your yard, but it will also address many issues that you may not have considered. Best of all, a professional landscape design plan allows you to tackle the project in an orderly process.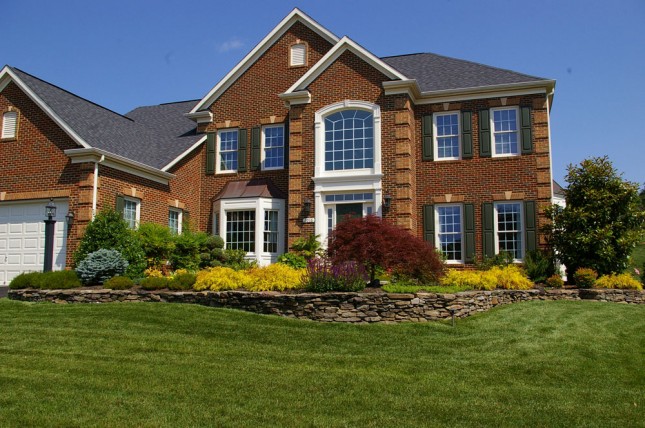 A professional landscape design will focus on the following areas in the following order:
Drainage Issues
Your landscaping professional will assess any drainage issues you may have and make suggestions for directing downspout water and making sure water drains away from your foundation, as well as a plan for correcting any low areas. French drains, dry river beds and other techniques can be incorporated into the design to fix any issues.
Curb Appeal
Curb appeal is what it's all about. It's the first thing people see so make sure your ideas are a combination of 'wow factor' and functionality. Don't make it so that it's hard to maintain or you will lose your desired effect over time.
Landscaping is one of the few investments that is guaranteed to raise the property value of your home.  Trees and shrubs only increase in value as they mature and a well landscaped home will sell for more and sell faster than similar properties in the area.
Hardscapes
Next come hardscapes. Consider adding the following to your yard – porches, retaining walls, pathways, driveway, patio, fencing, pergolas, arbors and more.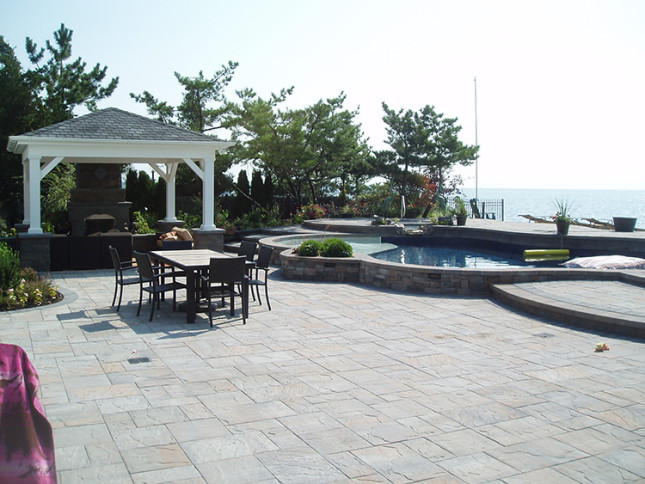 Landscape Beds
Start thinking about landscape beds and where you want them. Keep in mind that the beds will have to be maintained, weeded regularly and mulched yearly.
Foundation Plants
Foundation plants are plants that enhance the foundation of your house, not cover it up. You're looking for low-growing shrubs or even groundcovers around windows and porches, with larger shrubs for the corners of the house. Add annuals for a pop of color.
Back Yard
Come around back to the back yard. Your plans should include making your backyard an outdoor living area to enjoy. Think about if you need more entertaining space, more privacy from your neighbors, additional shade areas, fencing, a patio or deck, a play area for the children or a fire pit area.
Side Yards
Don't neglect the sides of your house. Do you need pathways or walkways, garbage can corrals, more storage, a shed, a dog run?
Plants
It's all about choosing the right plants, for your geographic area as well as your physical area. This is where consulting with a professional landscaper can be very helpful. Homeowners often fall in love with a plant they saw online or in a magazine article.  While the pictures look great, the plants may not do well in your zone or a particular micro-climate of your yard.  A professional landscape designer knows what plants will thrive at your house. By choosing the correct plants you save money, time and your landscape can shine.

Maintenance
To keep a beautiful yard and landscape it must be maintained. Keep that in mind while you do your planning. How much time do you have to keep your yard beautiful? Share this information with your professional landscaper and they will help you build a design that works for you now and for years to come.
Get Started
Whether you plan to tackle your landscape project yourself or you're looking to have a professional do the installation, having a landscape design plan can save you time and money.
Meet the experienced staff at Patuxent Nursery who can help guide you through the process to your dream landscape.