8 Best Fall Perennials for Seasonal Color
When it's time for some perennials to go dormant it's time for others to come out in all their glory, and now is the time for fall perennials to shine. Make sure you incorporate a seasonal interest in your yard, blending bloom times so you will have continuous color and appeal throughout the seasons with little effort.
Whether you need foliage or flower, have sun or shade, dry soil or clay; there is a plant for you.  Fall perennials massed together make a statement by adding a border or interspersing splashes of color to keep your yard alive with color as it transitions into cooler weather.
Here are some of our favorite fall perennials: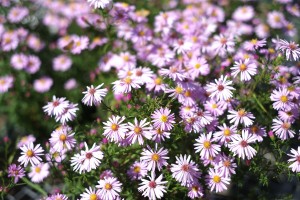 The Aster
Coming in an array of colors from white –purple this family (Asteraceae) is a classic native perennial with a burst of color in September- October. They can be very adaptable from clay soil to dry conditions, deer resistant and easy to grow. The Novae Angliae, for instance, can have as many as 70 blooms at a time and can bloom into November in some areas. Being a late bloomer has its advantages as it supplies Monarch Butterflies with nectar they need for their journey to Mexico as the other sources become scarce.
This plant needs no introduction it is one of the most popular perennials with new introductions every year. While prized for its show-stopping foliage it is most whimsical when the long flowering fronds emerge in shades of white, pink or red. Also capable of adapting to conditions this one does best in well-drained but moist soils with partial sun. A stunning border can be made with Berry Timeless- a pale green leaf with emerald veins and a striking red bloom. Peach Flambee will change from a coral rose to a richer plum/ purple as the weather turns cooler. Fire Alarm, Berry Smoothie, and Forever Purple are stunning in areas of light shade. And if it couldn't get better these are also deer resistant! A must-have in any garden.
Heucherella
Yes, this is a hybrid of Heuchera and the Tiarella perennial, featuring a better heat and drought tolerance than Heuchera and a more unique leaf pattern. While it still appreciates moisture (but not excess! Drainage is key for these) this plant may handle more sun than a Heuchera in your yard. Who can resist with introductions like Buttered Rum, Brass Lanterns, Fire Frost and Sweet Tea? Attracts hummingbirds and butterflies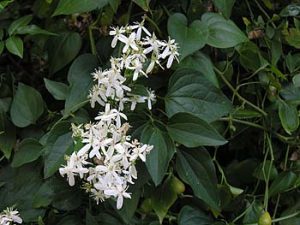 Sweet Autumn Clematis
For those of you that want a lovely vine for your trellis or fence that smells absolutely phenomenal, this is a must-have. White flowers cascade in the Fall from dark green vines and give off a wonderful aroma, and when done blooming it will still have fuzzy attractive seed heads. It reaches up to 30' that is a maximum, and plant in full sun for the best bloom.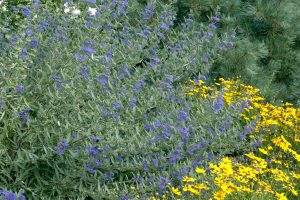 Caryopteris
Aka Blue Mist or Bluebeard this plant often gets overlooked in the Summer until it bursts open into blue flowers late Summer-Fall and is one of the toughest plants when it comes to drought tolerance. Virtually maintenance free this will attract honey bees and loves full direct sun. This plant can have an exceptionally long bloom time, from mid-late summer through November. The foliage is aromatic and soft, this is truly a plant for the no-fuss gardener
Sedum
This plant has so many uses it has gone full circle from gardens, containers, to even rooftop and living wall installations. As an adorable Hen's and Chicks to a mass planting of Autumn Fire Sedum is a favorite for the sunny, hot, dry, low maintenance plant a go homeowner. As a succulent, this perennial can withstand much more neglect than almost any other perennial. Angelina is a bright almost neon green groundcover that can lighten up a walkway or trail from a planter. Autumn Joy is a favorite for a taller statement of star-shaped clusters of flowers, while dragons blood is a spreading variety that goes from bright green/ red to deep red in the cooler temps of Fall.
Autumn Fern
This fern earned its name from the copper new fronds that emerge throughout the growing season into Fall and then stays somewhat evergreen into the winter. While it has Autumn colors throughout Summer it is perfect for incorporating into your Fall garden, especially since it holds its foliage longer than companion plants. Very drought tolerant and easy to maintain, plant in partial- full shade
Tricyrtis
The flowers in Fall on these are an unexpected and exotic, reminiscent of an orchid flower. With wider leaves and tall graceful flowers, these are best grown in partial shade and can tolerate drier soils once established. Since these grow to the height of 1-3' it's best to grow them in an area protected from heavy wind and rain exposure. Truly a unique plant of interest!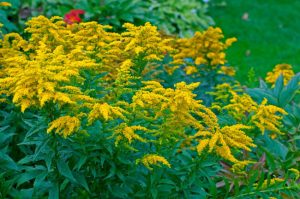 Solidago
A native plant this was overlooked for some time as a weed this plant hails some of the brightest flowers for Fall. With natives becoming more popular this plant can help extend your landscape by lighting up in Autumn with pale yellow or lush golden blooms. A tough perennial which performs best in the moderate-dry sun, most varieties are tall but the Little Lemon is a nice compact variety for those that like a tidier look. Not to mention the pollinators will love you for planting it.