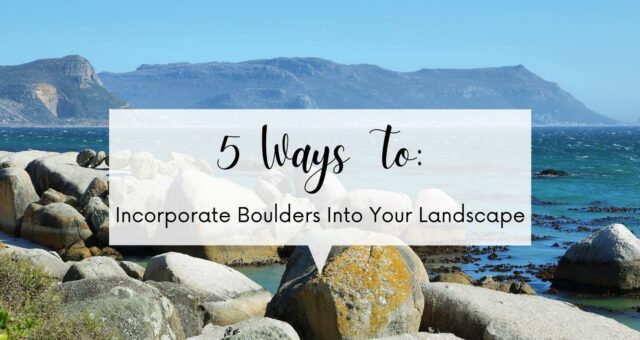 5 Ways To Incorporate Boulders Into Your Landscape
Thinking about sprucing up your landscape, but are unsure of how? Landscaping with boulders is something that you may not have thought about! Although rocks and boulders may seem intimidating, you do not need landscape designers to incorporate them into your garden. There are many different ways to incorporate boulders into your next DIY landscape project!

Boulders make great natural borders to any river, pond, or other aquatic areas! Not only do they create an aesthetic border around your water feature, but they also serve a practical purpose. Bordering your waterways by landscaping with rocks can help prevent erosion of the land around it. This is achieved by creating a retaining wall.
If you set your boulders closely together, you can also create a great hangout spot. Depending on the size of the boulders and the boulder grouping, you may even be able to have a picnic by the water on one!

One way to section off your land is by placing boulders around it. This is an aesthetically pleasing way to separate your land from others and create some privacy. Having boulders around your landscape is also a great way to prevent anyone from driving through your front yard, into your mailbox, or into anything else on your property. Boulders are the best natural way to protect your land!

Large boulders make the perfect outdoor seating! They are a unique piece that none of your neighbors or friends will have. They are also more durable and can handle the elements much better than outdoor furniture. You can use two boulders with a plank in between, or just use one large one!
No rock/zen garden design is complete without boulders! They can be placed as a focal point and/or used as a ground cover for your garden. Both larger boulders and smaller boulders can be incorporated into this type of garden to create a peaceful oasis!

Lining your walkways with large and small borders can create interest in an otherwise boring walkway. Adding boulders creates a sense of depth and makes the walk more interesting. Not only can you experiment with different colors of boulders, but you can also mix different textures as well. Mixing different colors and textures will create visual interest for anyone that passes through.
Boulders along walkways can also serve a practical purpose. Lighter-colored boulders can illuminate the walkway when lighting is refracting off of it so your guests will not miss it!

Here at Patuxent, we have a large selection of boulders and natural stones in stock! You can speak with our experts about any landscaping ideas you may have to incorporate these large stones into your property. We have smaller boulders that are 12"-18" all the way to large boulders that are big enough to fit multiple people on them. Find what you need for your next project today!