15 Gifts Plant Lovers Will Adore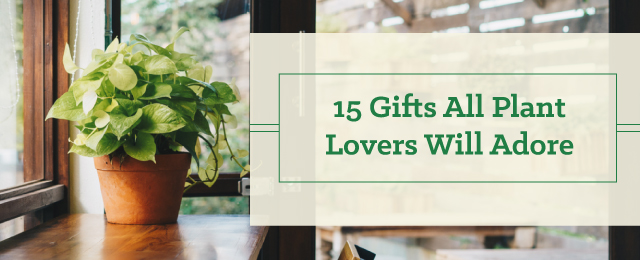 The end-of-year holidays may be long since finished, but Valentine's Day is just around the corner, and that means it's still gift-giving season. Have you decided what to buy your valentine this year?
There are all the classic options. There are chocolate, flowers, dinner and a romantic show, or a fun night on the town. All of these are great choices any significant other is sure to love. But there's something to be said for gifts that have a slightly more personal and individualized feel to them.
Often, the presents that feel the most romantic and are the most appreciated are the ones that come from having a deep knowledge of your partner's hobbies, likes and interests. After all, anyone can appreciate a bouquet of flowers or a dinner at a tasty restaurant. Not everyone has a deep and abiding interest in the things your significant other enjoys. By targeting your gift to the things you know your partner loves, the experience becomes more personal.
If your significant other loves plants, then you're in luck. There are plenty of amazing things out there that will touch the heart of any plant lover. Today, we're going to look at 15 best gift ideas for gardeners. By choosing something from this list or inspired by this list, you're sure to make any plant lover's Valentine's Day an extra-special occasion.
A New Houseplant
February may not be an ideal time of year to buy your partner a plant that will need to be planted outdoors, but that doesn't mean it isn't the perfect time of year to try out a new type of houseplant. This is especially true if you live someplace that doesn't have any outdoor space to plant flowers and shrubs.
There are so many types of houseplants to choose from that even if you give them multiple times, each time it feels fresh and new. Here are just a few of the exciting varieties of plants that thrive indoors.
Aloe
You may recognize the name of this pretty little plant. It provides the main ingredient to the gel we put on cuts and burns. It doesn't need to be watered very frequently to survive, making it perfect for homeowners who prefer low-maintenance houseplants. To care for this plant, let the soil dry out completely between watering. Depending on how humid your home is, this could mean going two or three weeks between watering.
Snake Plant
This plant, also known as mother-in-law's tongue is another succulent which makes it well suited to living in a pot and surviving without constant care. It's genuinely hard to kill and can survive for weeks without water. It's a perfect option for someone who travels a lot.
Bromeliads
These plants thrive off light — and lots of it. Place them on a window sill or some other well-lit place, and they'll explode into colorful flowers and foliage.
Jade
Jade is another incredibly low-maintenance houseplant. Jade grows slowly, looks beautiful and thrives in a pot. It's also a smart selection for someone who's newer to gardening because they look pretty and don't require a lot of care to stay that way.
Pothos
This plant's notable features are its variegated leaves and ability to grow fast. While it still makes a hearty houseplant, it might be the right choice for someone with past gardening experience since it will need to be cut back or repotted on a more frequent basis than many other houseplants.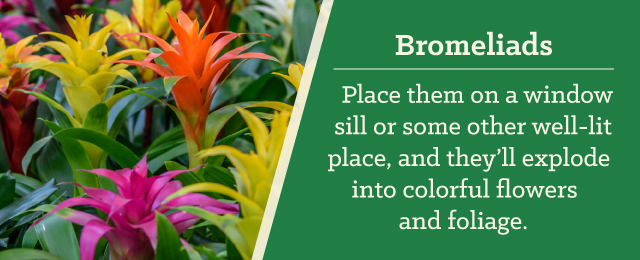 Rabbit's Ear
These funny-looking little plants are as adorable as they are unusual. With their hairy leaves, they genuinely resemble tiny rabbit's ears. They're also a preferred choice for travelers, as they can last without water for extended periods of time.
Rubber Plant
These unique-looking leaves are a conversation piece, as everyone will want to know what kind of plant they're from. They make rubber plants a nice match for those who love the odd and unusual.
Spider Plant
With their long, draping leaves, these plants look fabulous in a pot hanging from a hook on the ceiling. They don't take a lot of care, and they provide an immense sense of satisfaction when they produce their first "spider baby."
Kalanchoe
This tropical succulent has beautiful deep green foliage and flowers in bright, eye-popping colors as well. Set it in a pot on the windowsill or hang it in a basket from the ceiling to immediately brighten up any room.
Orchids
Elegant and diverse, orchids make a great gift for the plant-lover looking for something unique. Each species of orchids has its own individual look, making it so that no two gift orchids look the same. Our pink and white orchids are perfect for Valentine's Day.
Cactus
We'd be remiss not to mention the ultimate houseplant — the cactus. These come in all different shapes, sizes, colors and varieties. They require almost no care at all, making them a distinctive decoration without being a lot of work. Be aware, however, that they might be a dangerous choice for someone with pets or small children.
Air Plants
These natural wonders almost seem to defy the laws of plants. They grow entirely without soil, meaning they're extremely easy to grow and care for. All you have to do is mist them with a spray of water once a week to keep them strong and healthy.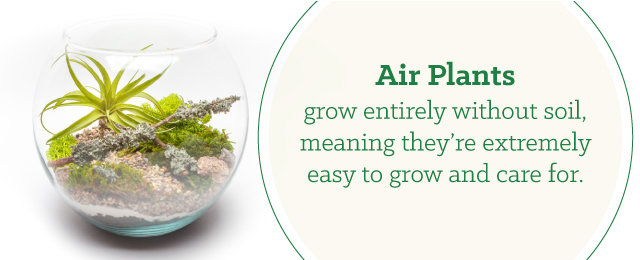 Seeds
Even though the weather might be cold and the snow might still be covering the ground, it's never too early to start thinking about spring. And there's no better way to beat the midwinter blues than by surprising your significant other with a colorful assortment of seeds for their garden. You can start some seeds indoors before replanting them outdoors, and others you can wait to plant outside.
Here are a few ideas to help get you started thinking of colorful springtime flowers that begin life as seeds:
Snapdragon
Ageratum
Vinca
Cosmos
Celosia
Sunflower
Globe Amaranth
Alyssum
Impatiens
Medallion Daisy
Petunia
Zinnia
Marigold
Bulbs
You might think of bulbs as something typically planted in the fall. That's true of most bulbs, but not all of them. You can plant some bulbs in the spring that will bloom in time for the summer season.
Besides, there's nothing wrong with giving your favorite gardener bulbs that can't be planted until the fall. They'll be just as beautiful next spring. If you feel ambitious, you can put some bulbs in pots indoors during the colder months. Whether your partner loves daffodils, tulips, lilies or some other type of flower, bulbs impart the joy of growing this flower for themselves.
Succulent Garden
If there's one thing we know about succulents, it's that you can't have just one. These small and attractive plants are often arranged together in a large pot or planter, so they form their own beautiful garden. All the different colors and textures of the many smaller plants then blend together to create a rich and dynamic feast for the eyes.
Terrarium
There's something about a terrarium that's endlessly fascinating — whether you're an avid gardener or not. They come in all shapes and sizes, but they generally consist of a few miniature plants placed in a glass box or sphere. They might have some dirt, sand or rocks as well, or even small decorative elements. These can be placed on a table or windowsill, and they make for interesting conversation pieces. You can hang some of the terrariums that come in round glass balls from hooks.
Gardening Gloves
These are a necessity for any gardener. If you're going to spend a significant amount of time digging around in the dirt, you're going to want a reliable way to keep your hands clean.
Depending on the type of plants your valentine likes to garden, these gloves might be about more than just keeping clean, however. If they enjoy caring for roses, cactuses or any other type of plant with thorns or spines, these gloves are an important means of protecting themselves.
Whether your Valentine already has gloves but could use an upgrade or is still wearing gloves that are 10 years old and need to be replaced, a new pair will always be appreciated.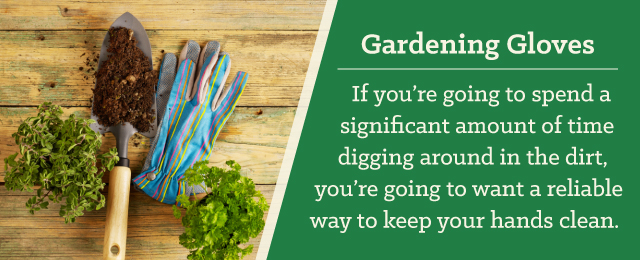 Additional Gardening Tools
One of the best gifts for people who love plants is the tools to help their plants grow and thrive. This might mean a new watering can or garden hose, a new hoe or rake, or some of the fancy fertilizer they don't often splurge on. In this category, it's hard to go wrong. To the true plant lover, all gardening tools are welcome.
If you're not sure what gardening tools your Valentine might look, you can always pick out a gift card to their favorite nursery. Gift cards from Patuxent Nursery are great, because your Valentine can use them now or save them for spring!
Gathering Basket
Is your plant-loving friend an avid vegetable gardener? If so, they might love having a handy basket to tote their freshly grown produce from the garden to the house. These come in all different designs and sizes, from the most utilitarian and practical to more whimsical shapes. No matter what you choose, however, they're immensely useful and will be appreciated by any vegetable gardener.
Stepping Stones
These come in every shape, size and color you can imagine, and they all add a distinct and personal flair to any garden. You might choose:
Stones etched in geometric designs,
Stones shaped like cute animals
Stones that have personalized phrases written on them
Stepping stones serve the dual purpose of adding personality and art to a lawn while also providing people with a safe path through the garden without crushing any of the plants. These make them a present that's both practical and beautiful.
Garden-Themed Dishes
It's hard not to appreciate the cheer that comes from drinking your morning coffee out of a mug decorated with cacti or eating dessert off a plate that has herbs painted on it. Anyone can appreciate fun novelties like these, but they'll have a special meaning for someone who enjoys gardening.
Garden-Themed Stickers
In case you've missed it, stickers are an explosive trend we can't seem to get enough of. They're fun to put on your laptop, your day planner, your bathroom mirror and anywhere else that offers a smooth, flat surface. They're a way to show off your interests or just make yourself smile as you see them throughout the day.
What could be better than combining plants and stickers? Tiny stickers depicting favorite plants are useful for gardeners of any age.
Novelty Planters
Sure, any planter or pot will function as a perfectly useful place to plant flowers or succulents. But why opt for the ordinary when you could pick the extraordinary? This is one of our favorite gift ideas for plant lovers.
There are so many fun, colorful and cute planters available to choose from. They come shaped like animals, faces, geometric shapes and designs, and anything else you could possibly imagine. These types of planters will not only do their job as pots, but they'll also look pretty and unusual. They're an item sure to catch everyone's attention as soon as they enter the room, making them a good gift idea for plant lovers.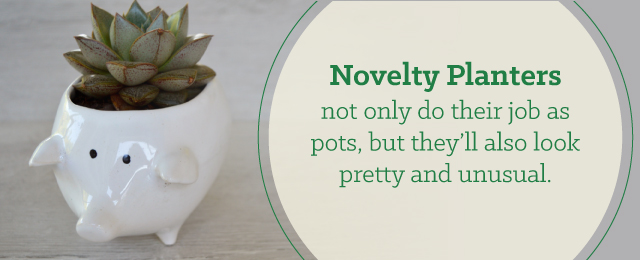 Garden Markers & Statuary
Many plants are hard to distinguish when they are very young, meaning it can be hard for even the most dedicated gardener to remember where they planted what. Garden markers are a way to remember which plant is which while also adding a little decoration to your rows of plants. Long after the plants have grown into their more recognizable and mature selves, the markers are still great additions to any garden.
For the plant lover that's looking to make their garden stand out, statuary can be an excellent gift. Pick out a small table top fountain for the gardener looking for something petite and versatile. our table top fountains work great inside and outside, perfect for the Valentine that wants to hold on to their gift into the spring.
Garden-Themed Accessories
It's hard to resist the appeal of socks covered in cacti, earrings shaped like mini-terrariums or a scarf designed in a succulent pattern. These are excellent gifts for plant lovers because they allow them to broadcast their love of plants to the world.
A Journal for Dried Flowers
The only thing sad about flowers is they don't last forever. No matter how beautiful a blossom, it eventually fades. That's why pressing and drying flowers has become such a unique art. It allows blossoms to be preserved long after they would otherwise have died.
If you know a plant lover who enjoys pressing flowers, why not find them a notebook or journal for keeping them? Here they can store the flowers between the pages as well as write notes about them and the plant they came from.
Where to Buy Plant-Related Gifts This Valentine's Day
Looking for someplace to fulfill all your plant-related gift-giving needs this Valentine's Day? If you live near Bowie, Maryland, that place is Patuxent Nursery. You'll find a huge assortment of plants and plant-related items that will make wonderful Valentine's Day presents for all the gardeners in your life.
We offer wide selections of plants as well plenty of accent items for both your outdoor and indoor gardens. We also supply garden tools, pottery and different soil mixes to keep your valentine in supply for a long time.
Stop by today to check out our incredible selection. We're open Monday through Friday from 7:30 a.m. to 5 p.m. and every Saturday from 8 a.m. to 4 p.m.