Mixed Planters and Hanging Baskets
There's nothing quite like a well-executed mixed planter or hanging basket! When season and color are taken into consideration, these creations can easily become a hit for any garden or landscape. Patuxent Nursery carries a wide variety of mixed planters and hanging baskets that will brighten up your space and even invite pollinators like birds, bees, and butterflies. Stop by and check out our current selection!
Mixed Planters
The best part about a mixed planter is that you can move it around whenever you want! When we plant in the ground, it takes a lot of effort to undo our work if we decide we don't like the outcome. Not to mention, many plants do not like to be transported once established, so planting them in the ground can feel like a big commitment.
With mixed planters, you get the joy of colorful plants in a single, easily transportable container! These containers are filled with plants that work well together, i.e. they flourish in the same season and also have the same sunshine, water, and care needs. This makes life easy!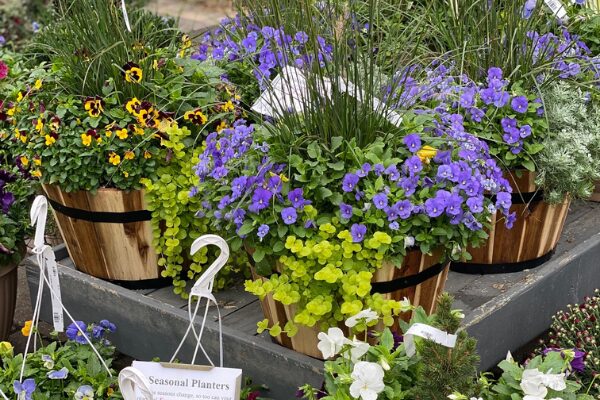 Premade planters are perfect for many living situations. Whether you live in a house with ample amount of space or an apartment with a small patio, these colorful creations will liven up your home!
Hanging Baskets
While the rest of our gardens sit low to the ground, hanging baskets create interest in higher areas of our landscapes! Because these baskets are not in the ground, they are typically low maintenance and only require some pruning when there are noticeable dried out or dying leaves.
Like container plants, hanging baskets work for many living spaces. All baskets will come with a hook, which makes it easy to bring your new plant home and find a great spot for it. Because these delightful creations are suspended in the air, they do not face common pest issues which tend to plague other plants in the ground.
Hanging baskets come in all shapes and sizes! One of the more common materials used is coconut fiber. While this gives a rustic look, it also serves to help with drainage and air circulation.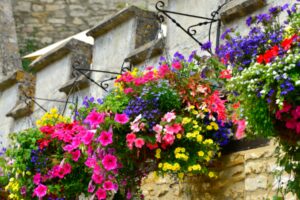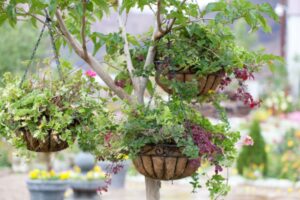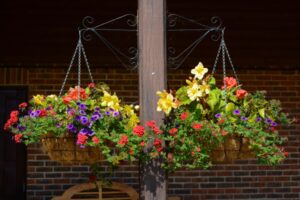 Seasonal Planters and Baskets
Here at Patuxent Nursery, we create seasonal mixed planters and baskets perfect for maintaining year-round interest. Stop by and check out our current winter mixed planters and baskets!