Trees for Sale
Whether you are searching for privacy trees, evergreen screening trees, shade trees, or flowering ornamental trees you will find what you are looking for at Patuxent Nursery. We specialize in premium grade material, and that means bigger trees and the best selection! To check out our selection of premium grade trees, visit us in Bowie, MD.
Privacy, Screening, and Buffer Trees for Sale
Sometimes we just need privacy, especially in our yards. Not interested inexpensive fencing that needs yearly maintenance? Consider adding a 'live' wall to your yard with privacy trees, screening trees, and buffer trees. Trees can create a beautiful and natural screen full of blooms and foliage that are eye-catching instead of being an eyesore. From White Pine to fast-growing Leyland Cypress and Nellie Stevens Holly to stunning Emerald Green Arborvitae and Thuja Green Giant, we have the privacy trees that are perfect for your landscape. Create a privacy screen that will bring beauty to your yard year after year while giving you the privacy buffer from your neighbors that you crave!
Leyland Cypress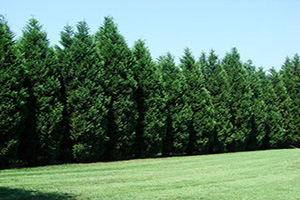 Leyland Cypress is a fast-growing privacy and screening tree prized for its hardy nature. Its rapid growth makes it ideal for hedges, windbreaks, and privacy screens.
Emerald Green Arborvitae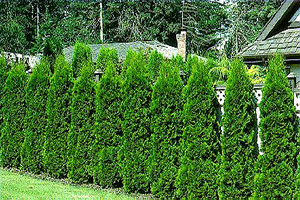 Emerald Green Arborvitae is a fast-growing tree that is perfect when used as a privacy screen or windbreak hedge. It thrives in full sun, with heat and humidity. Drought tolerant and columnar, it looks great in a row as a formal screen.
Nellie Stevens Holly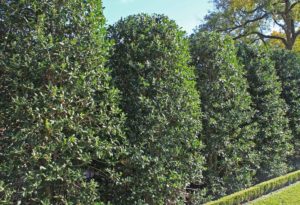 Nellie Stevens Holly grows tall and stays deep green throughout the year. In the winter, it is loaded with red berries and in the spring it has tiny white blooms. This fast-growing privacy tree is perfect as a buffer hedge or a stand-alone specimen tree.
Evergreen Trees for Sale
Evergreen trees deliver year-round color, as well as providing a privacy or screen alternative to expensive fencing, and can block wind, provide shade, and reduce your heating and cooling bills. Evergreen privacy trees are typically needled and broad-leafed and come in a wide range of colors, from hunter green to silvery blue, yellow, copper, gray-green, blue-green, chartreuse, as well as plants with variegated foliage. Choose from Arborvitae, Thuja, Pine, Cedar, Cypress, Juniper, and more. While many traditional living walls sport dark-hued plants, a golden or silver-blue conifer can add winter interest into a perennial bed, particularly when blooms have disappeared for the season. Whatever the season, whatever the weather conditions, our supply of evergreens provide a bit of color and can create the perfect screen from unsightly views. These trees make a great addition to anyone looking for a hardy, long-lasting investment. From Bag & Burlap Firs to Container sized Pines and Spruces, Patuxent is the place to come.
Thuja Green Giant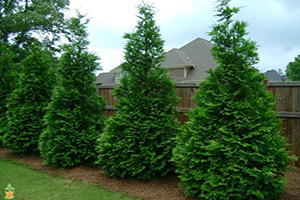 Thuja Green Giant is fast-growing and often used as a privacy tree. It's dense and the perfect barrier to buffer your yard from your neighbors.
Eastern White Pine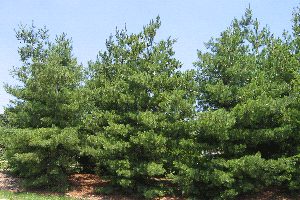 Eastern White Pine is an evergreen tree with feathery needles, an open canopy, and a straight trunk. This picturesque tree is fast growing and the perfect tree for windbreaks in open areas.
Sycamore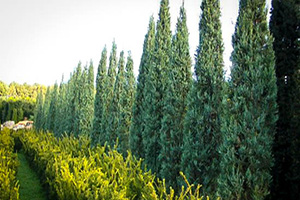 Skyrocket Juniper is a stately, columnar plant that works well at an entrance or to define a boundary. A perfect vertical accent tree, this evergreen is durable and versatile, drought-tolerant, and adaptable.
Shade Trees for Sale
Want to add some cool beauty to your landscape? We sell fast-growing shade trees that are best for shade and screening, as well as ornamental beauty. Choose from Sycamore, Poplar, Maple, Beech, and more. Protecting our homes from the sun during the summer can end up saving us both money and energy and this can be easily achieved by strategic use of trees for shade around our homes. These shade trees block the sun from streaming in our windows and heating our walls and roofs during certain times of the day and you can create comfortable outdoor spaces by placing shade trees near your patio or deck.
Tulip Poplar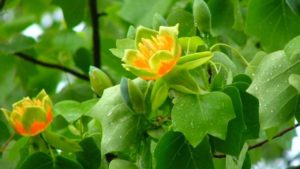 Tulip Poplar is a beautiful shade tree with spring flowers and autumn colors. Fragrant like a magnolia, it is fast-growing and easy to care for.
Red Maple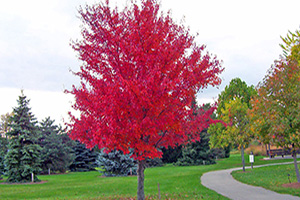 Red Maple Trees have brilliant, long-lasting red fall color is fast-growing, and prefers moist soil with good drainage. Beautiful as a lawn or street tree.
Skyrocket Juniper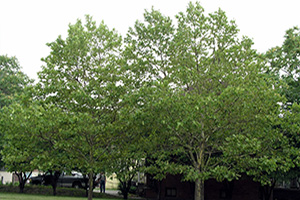 Sycamore Trees are one of the largest and oldest North American native trees. The white bark is unique and creates interest in your landscape. It is easily grown, likes moist, well-drained soil in full sun but tolerates light shade.
Flowering Trees & Ornamental Trees for Sale
We're lucky enough to have an array of gorgeous species, grown & delivered seasonally to meet our customers' highest standards. If names like Yoshino Cherry, Crape Myrtle and Southern Magnolia ring any bells, you've found the right place. We host a large variety of species and sizes, suitable for jobs big and small. Talk to anyone on our staff and we'll be sure to lend a hand or two in fitting your property with the perfect trees.
Flowering trees transform your garden with mature trees providing beauty and grandeur, while small flowering trees sparkle with life and promise. They lure us outdoors to walk a bit and enjoy the beauty of the season. The best flowering trees attract pollinators such as bees, and fruits feed birds and small creatures. At every season, they frame and shape the garden. Ornamental trees brighten up any landscape with vivid colors in the spring and fall and sweeten the air with fragrant flowers. An ornamental tree can offer a focal point for your garden and add year-round beauty to a garden. When choosing flowering and ornamental trees, think beyond spring to those that blossom in summer or early fall, so there is always something in bloom to enjoy. Consider also interesting leaf shapes, handsome woody structure, showy fall color, and bright berries.
Fruit Trees for Sale
We sell a wide variety of edibles, such as apple and pear trees and blackberry, strawberry, blueberry, and raspberry bushes. In the Spring, Summer, and Fall, we have a wide variety of herbs such as basil, chives, cilantro, citronella, dill, parsley, rosemary, and thyme. Our vegetable selection is vast. Some of our veggies are cucumber, eggplant, melons, peppers, squash, and tomatoes.
Patuxent Nursery is proud to sell American Chestnut Trees as well.  Once beautiful and abundant, the American chestnut tree covered huge tracts of land across the eastern United States for thousands of years until a fungus (blight) from Asia decimated virtually every tree standing on North American soil.  After nearly 70 years of absence, the American chestnut is poised to make a comeback, thanks in part to the Dunstan Chestnut. The blight-resistant Dunstan Chestnut Tree is easy to grow and they thrive in a wide variety of areas.