Mixing Annuals and Perennials for Fall Color

Even though it's the end of Summer and the daytime temperatures are still 80+, fall and cooler weather are approaching. As the temperatures start to decrease, and the days start to get shorter, it's time to start thinking about what to color your containers, patio or yard with.
The plants will be grouped by type, annual or perennial, but all will be plants designed to be showy in the fall and winter. Annuals last only one season, either summer or spring/fall but usually have more color, while perennials will last for many years but usually bloom or have color for a shorter time frame. It's possible to mix and match from different categories, in fact that's recommended to make things more interesting.
Annuals for Fall Color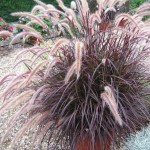 There are many beautiful annuals that will give you intense fall color. Pennisetum rubrum is a grass with some height to it that gets about 2 ½ or 3 feet tall with fuzzy cylindrical seeds at the top. The foliage is green at the very base but quickly turns to a dark purple that will last through the first few light frosts. It's available in a 1 gallon for $7.99 and would look beautiful in the center of a container or as a backdrop for plants in a landscape.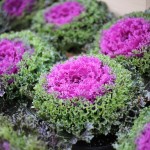 Another option is ornamental cabbage and kale, which comes in many different color combinations, including green, white, pink, red and purple. The leaves come in 2 options, either it will form a traditional rounded head or it will have frilly, fernlike leaves that never form a head. Either type should last through the winter and into the early spring, until things start to warm up again. Ornamental cabbage and kale are currently available in 2 sizes, a 4 ½ inch perfect for containers for $2.99 and an 8 inch for $5.99. Next up are pansies, a fall and winter color staple. They come in just about every color, and each color usually comes with the option of a blotch, or darker center flower. That being said, there are also mixes, which include several different colors.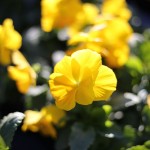 Pansies tend to stretch and not look very good in the heat, but there should be 4" and 6" containers available in the next week or so. Ornamental peppers are another great option for some fall color, but will die before the first frost. The peppers come in a few different shapes and colors. Typically, they fade from one color to another, like green to red or purple to orange or yellow to red, and are available with a thin, long chili pepper or a shorter more conical pepper shape to them. Our ornamental peppers come in 4 ½ inch pots for $3.99 and 6"-7" pots for $5.99.
Perennials for Fall Color
Next up, perennials with some stellar fall color. Almost all hardy ornamental grasses are going to seed in the late summer and early fall, so they are an excellent choice. 'Cheyenne Sky' is a green grass with purple tips that gets to about 2 ½ to 3 feet tall with a 12"-16" spread that looks beautiful planted in the landscape or could be used in a container. Other options include dwarf Hameln grass which gets about 18"-24" tall and spreads 12" which we have in a 1 gallon container on sale for $6, or Pampas grass which gets a huge showy plume on top of a 3' or more mound, and is one of the tallest grasses around, getting about 6'-8' tall.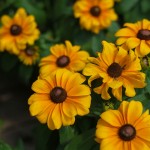 Black-eyed Susans, Rudbeckia, come in a few different flower sizes and leaf shapes and bloom in late summer and early fall. Rudbeckia fulgida has a much thinner leaf and gets to be about 3' tall, whereas the Goldstrum gets about 2' tall and is more compact than the fulgida. One gallon containers of either variety of Rudbeckia cost $8.99.
Coneflower or Echinacea is another flowering option which forms a seed head after it's done blooming – providing food for birds in the dead of winter. This flower comes in red, orange, yellow, and purple which usually blooms in July, August and September and get to be about 18" to 2' tall. Autumn blooming sedum is another colorful option. It's much taller than the ground cover sedum, getting to about 2' tall with large groups of small star shaped flowers that are available in pink or white that blooms late in the season, providing nectar for pollinators. Echinacea in a 1 gallon container cost anywhere from $9.99 to $20.99, depending on variety.
That's just a taste of what Patuxent Nursery has in stock for the fall season to keep color going in your garden or patio! Not sure what's right for your yard? Stop by and see us…we will help you every step of the way!