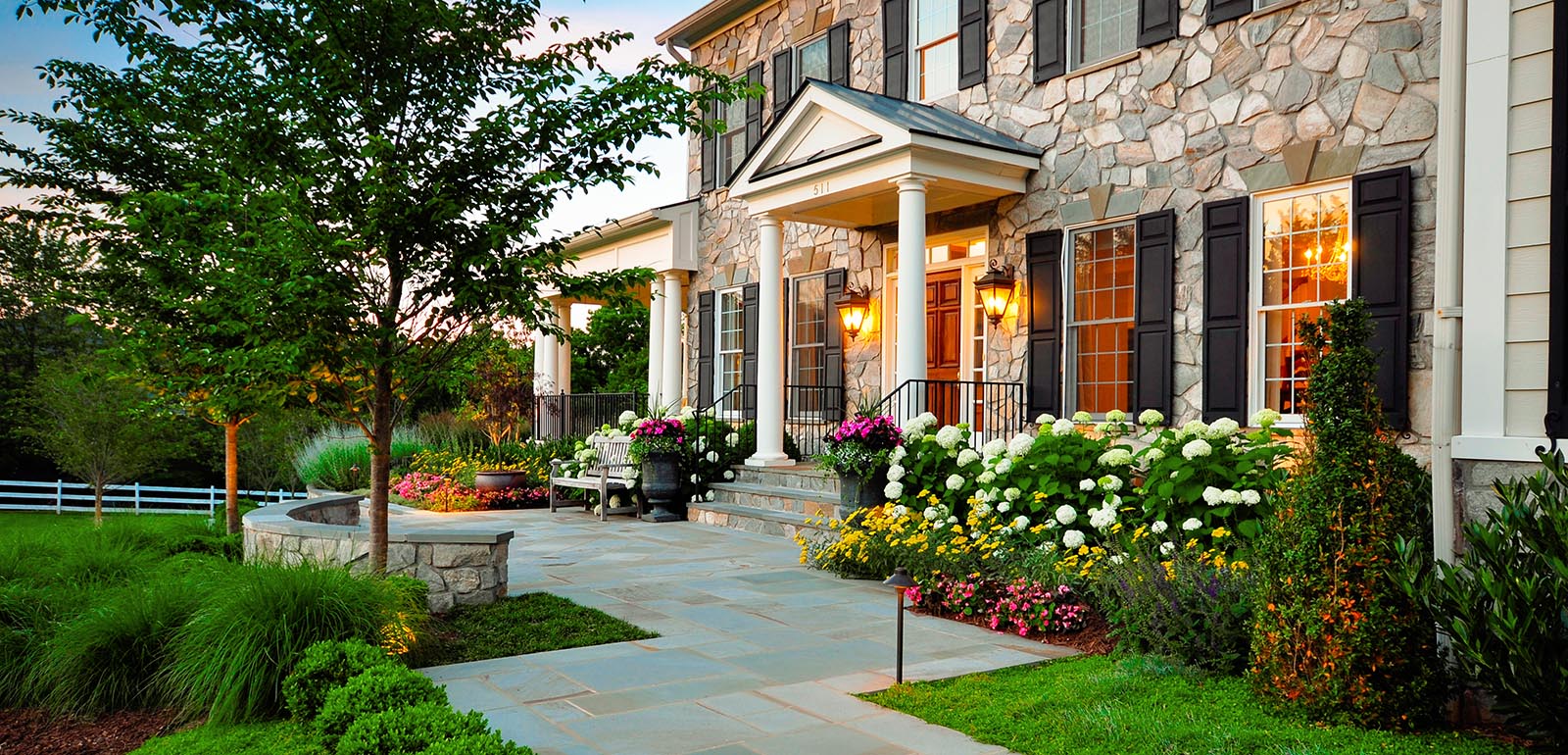 Design the
Landscape
of Your
Dreams
---
Residential Landscaping and Custom Landscape Design in Bowie, MD
If you need to find a residential landscaping company in the Maryland area, you've found the right solution. At Patuxent Nursery, we've been providing the highest quality plant material and prices in the metro area for more than 20 years. Our custom residential landscaping and custom landscape design is the ideal solution for your outdoor living space, and our landscaping experts have the experience to make the landscape you've envisioned for years come to life.
When Patuxent Nursery's Custom Landscaping designers visit your home they naturally evaluate not just a single project, but the overall design opportunities of your entire landscape. We can take your needs and desires, complemented with our years of experience, to create a master plan of your entire landscape tailored specifically for you.  Our designers can show you how this design can be accomplished in phases to enhance the immediate and future overall beauty of your landscape. You can decide which phases you want to accomplish, and when.
Benefits of Using a Professional Residential Landscaping Company
Do-it-yourself is always an option, however, it's not always the best one. When you choose to use Patuxent Nursery's Maryland landscapers, you'll gain access to our experience and industry know-how. We don't apply a one-size-fits-all solution to any of our customer's needs.
When you choose to work with professionals, they can quickly recognize if your landscape faces specific challenges and if so, how to tackle them. They'll also help you make decisions without feeling overwhelmed. They'll answer your questions, help you select the best and healthiest plants and keep your entire project within a set budget. We'll do all that and more at Patuxent Nursery — just say the word!
Are you looking for design help for only a portion of your landscape?  We can help you with that, too!  Perfect for the DIY homeowner, our designers will work with you to create a landscape plan suited specifically for a part of your landscape.
We work with you from concept to completion… on your timetable and budget.  The landscape plans we prepare for you can become your reality, whenever you are ready!

Tips for Finding the Right Residential Landscaping Contractor
When you're ready to choose Maryland landscape contractors, you don't have to take our word for our services. We're confident that after you've gone through the process of finding the right designer, you'll land on Patuxent Nursery every time. In fact, here are some tips for the process:
Do the Research: Never go by someone else's word alone. Look into companies and check social media profiles, review sites, references from their past work, prices and more.
Have an Idea of What You Want: This applies to the project as well as your budget. See how a contractor reacts to your needs and whether they're willing to provide the required products and services within a reasonable timeframe and budget. Great contractors will help you make the most important decisions so that you have a lawn you love for years to come.
Keep Options Open: Know how long a company has been in business and whether they've been successful. See if they have satisfaction guarantees, and make sure testimonials from past clients and pictures of previous projects are both exemplary.
Ask Locals: Don't assume a company is good just because they tell you they are. Check their references and see if anybody in the area will vouch for them.
Personality Traits: Visit the contractor and speak with them. Set up a meeting and find out whether they're willing to answer your questions, communicate with you and get creative on your landscape. You're the one who will be living with it, so you're the one who has to love it. Your landscape designer needs to be willing to work with you from start to finish to come up with the right solutions.
Questions to Ask Your Residential Landscaping Company
Ask the following questions before making any final decisions:
Can you provide plan drawings?
Do you have industry specialists in your staff?
How long has your company been in business?
Do you make any guarantees?
What installation process do you use?
Will you follow my project all the way to completion?
Are you bonded and insured?
What is the estimated cost and timeline?
Do you have a specific process?
If you have other questions you'd like to ask, feel free!
Talk to a Residential Landscaping Expert in Bowie
Don't wait! Achieve the exact landscape you dream of right away. Visit Patuxent Nursery to view our selection of plants and garden supplies for yourself and ask questions about your next landscaping project.
---
Patuxent Nursery
2410 N Crain Highway
Bowie, MD 20716
(301) 218-4769
Below are some projects for inspiration!