Can't Fail Containers – Gardening Basics and Beyond with Kathy Jentz
June 18, 2022 @ 2:00 pm

-

3:30 pm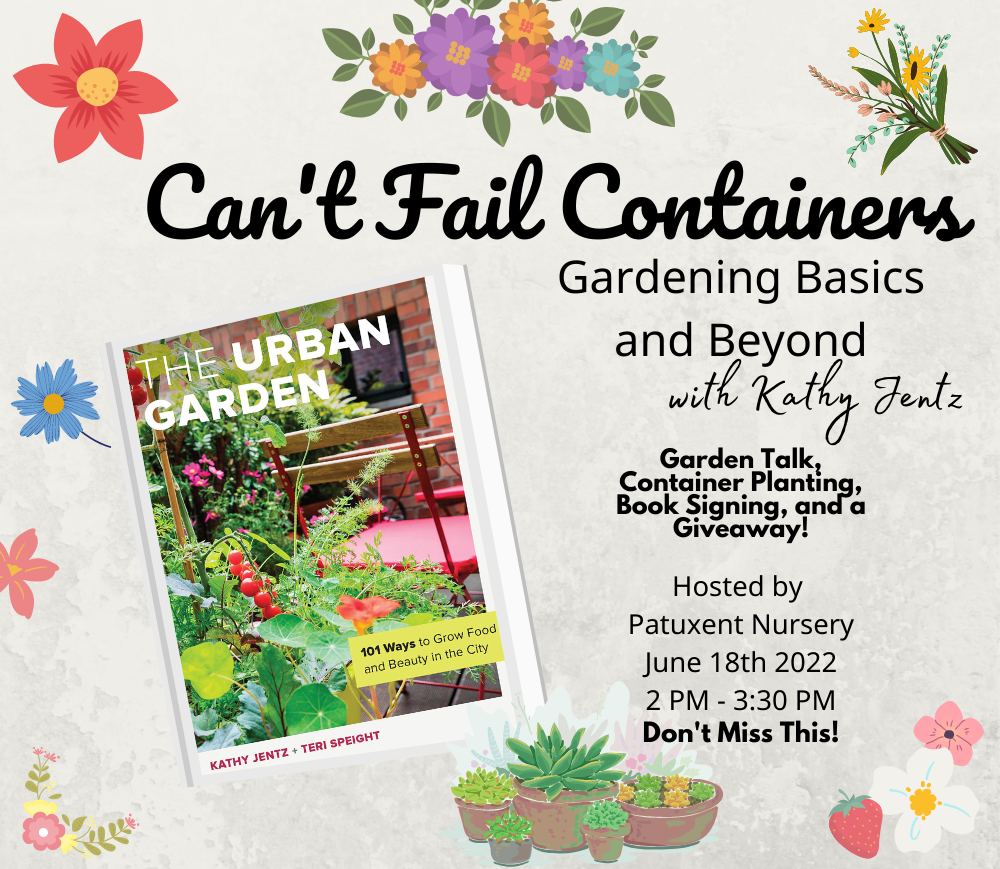 Can't Fail Containers
Gardening Basics and Beyond with Kathy Jentz
We are thrilled to welcome back in-person gardening speakers with a book signing and gardening talk from Kathy Jentz!
From what type of soils to use to what plants do best in our region, Kathy Jentz will cover the basics of growing successful container plantings. She will cover both ornamental and edible containers as well as the different styles and fashions in container gardening.
The event will run from 2 pm -3:30pm, giving a short talk on container gardening, answering your questions, and signing her newest book "The Urban Garden: 101 Ways to Grow Food and Beauty in the City by Kathy Jentz and Teri Speight". At the end of the container demonstration, one lucky winner will be selected to take home a mixed container planting, designed by Kathy herself!
Free to attend. Specific location w/in the nursery TBD. Rain or shine.
About the Speaker: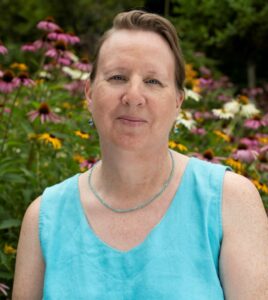 Kathy Jentz is editor and publisher of Washington Gardener Magazine and hosts the popular GardenDC Podcast. She is also the editor of the Water Garden Journal (IWGS), The Azalean (ASA), and Fanfare, for the local daylily society.
A life-long gardener, Kathy believes that growing plants should be stress-free and enjoyable. Her philosophy is inspiration over perspiration. She speaks on gardening and has been honored to have presented programs at Thomas Jefferson's Monticello, the Philadelphia Flower Show, U.S. Botanic Garden, the Historic Society of Washington, DC, and many other prestigious venues. Audiences both large and small enjoy hearing her on topics as varied as "Dealing with Deer" to "Small-Space Gardening". For audience reviews of her recent speaking engagements, see her listing at the Great Garden Speakers website (http://greatgardenspeakers.com/listing/kathy-jentz.html).
One of her other hats is as the Green Media columnist for the Mid-Atlantic Grower newspaper, where she does a great deal of hand-holding and coaxing to get independent garden centers, plant breeders, and other horticultural businesses to join the social media revolution and maximize their online brands.
Kathy's work has been featured in numerous area publications including Pathways Magazine and Washington Women magazine. In addition, she has appeared on regular gardening guest spots on Channel 9, Channel 4, as well as WTOP, WAMU, and WOWD-LP radio stations in Washington, DC.
Currently, she is the President of the Silver Spring Garden Club and is on the board of several other garden clubs and organizations.